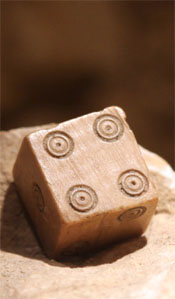 Common misconception: It's not accurate to say "roll the dice" when you're only rolling a single die. It would also be inappropriate to say that you're rolling a single dice.
Actually, according to the Oxford English Dictionary, this isn't true: The singular "die" dates to 1393. The singular use of "dice" dates to 1388. So, technically, the singular use of "dice" is actually older than the singular use of "die".
Furthermore, the plural use of "dice" only dates back to 1330. So, essentially, both "die" and "dice" have been used interchangeably as the singular form of the plural "dice" since Day One.
While I've got you thinking about dice, though, you might as well check out the "Dice of Destiny" article I wrote back in 1999.