Tagline: Buy it! Buy it! Buy it! Buy it! Buy it! But it! ………. Buy it NOW!

This game kicks ass… and not just because it's a fight game, either.
Real time card games (a term which I am almost certain was coined by James Ernest) are, in my opinion, one of the coolest developments to hit gaming in recent years. Collectible card games may have been innovative, but the sheer power of the real time concept easily blows them out of the water without blinking.
I have reviewed two other games in this trend – WOTC's Twitch! and Cheapass Games' Falling! — elsewhere on RPGNet with words of glowing praise, every one of which they earned and more. Now it is with great pleasure that I review Brawl, which takes all of this to a new level.
The game is currently marketed in the form of six interchangeable decks, each named after a fictional "fighter": Hale, Chris, Bennett, Pearl, Darwin, and Morgan. It is well worth your time.
(This is not – repeat, not! — a collectible card game. You need two decks – one for each player – to play, but each and every one of the decks is stand-alone. You aren't supposed to combine the decks.)
THE RULES

Okay, first off: What's this "real time" concept?
Basically it means what it says: You play the game in "real time", instead of artificially breaking the game into a series of "turns" or "rounds" or "hands" or whatever other gimmicky term the creators have come up with.
How does it work in practice?
Each deck in Brawl is composed of a variety of cards: Bases, Hits, Blocks, Clears, Hit-2s, Presses, and Freezes. The exact number of each type of card (as well as their presence and/or absence) is determined by which character you select – in other words, different characters have different strengths and weaknesses. In actual play you need to be aware of these, because it can have a profound difference on your success or failure.
To begin play each player shuffles their deck. Then they put one base in the middle of the table and put all of their Freeze cards on the bottom of their deck. You play cards off of these Bases in the following manner:
Hit. All Hits are colored. You can play a Hit card directly on the base, or on top of a Hit or Hit-2 card of the same color.
Block. All Blocks are colored. A Block can be played on a Hit or a Hit-2 of the same color. (Because Hits can't be played on Blocks, a Block thus prevents further Hits from being played.)
Press. A Press is played on a Block, allowing you to resume playing Hits on that Base.
Hit-2. Functions just like a Hit, but you can't play it on a Press or a Base.
Clear. A Clear card removes a Base (and all the cards which have been played on it) from play.
Freeze. A Freeze is played directly onto a Base (regardless of which cards have been played off of it) and prevents any further play on that Base. When all Bases have been frozen, the game ends.
Base. Additional Bases may be played as they come up, but there can only be three bases in play at a time.
Play proceeds off both sides of a base (each side being given to one of the players). When the game ends you count up the number of Hits and Hit-2s which have been played on your side of the base (Hit-2s count for two points) – that's your score. The player with the higher score wins the base. The player who wins 2 out 3 bases wins.
"Wait a minute," you say, "Where's this 'real time' thing come in?"
Well, like I said, there are no turns. Once play begins you begin playing cards off the top of your deck (i.e., you take the top card off your deck, look at it, and then play it, before looking at the next card and playing it) as quickly and as effectively as you can. (You can also discard cards into your discard pile, and can play the top card from this pile instead of turning over the next card in your deck as you wish.)
WHAT YOU SHOULD BUY

As I mentioned before, there are six decks to choose from. Conveniently, on the back of these decks, Cheapass Games has provided a series of three important guides: Skill Level (rated Easy,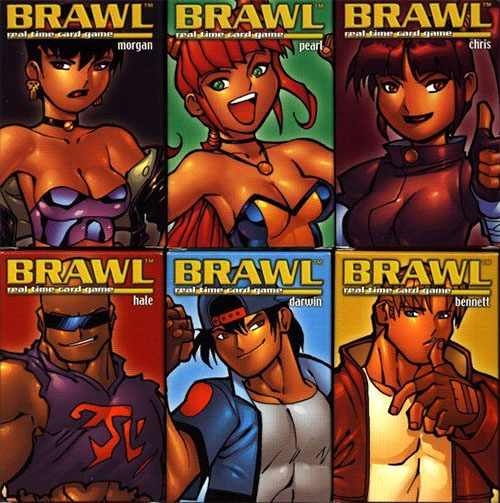 Moderate, and Hard); Advantages (a couple sentences on potentially successful strategies); and Weaknesses (a couple sentences on the potential soft spots in the deck).
I'd suggest starting with Hale and Chris, the two Easy decks. Hale is a bruiser – he's easy to play because he's all hits (offense is easier to handle than the finesse of defense). Chris is a well-balanced girl – easy to play because she doesn't require any special strategy.
I'd tell you where to go next, but once you've played the game with those two decks you'll be totally addicted, so it doesn't matter. The other four will fall neatly into your pocket without a second thought.
SUMMARY
What makes the game so effective is a combination of factors: First, the real time mechanics are a perfect fit for the fighting motif (Video Fighter, which I review elsewhere on RPGNet, looks stodgy by comparison). Second, the variety of decks for different fighters (a concept which was imperfectly originated by Video Fighter, coincidentally) shows the ability with which a simple set of rules and cards can be combined in various manners to create very specific dynamics and tactics. Third, the entire package is beautifully put together – great artwork, great design, great appeal.
Finally, and most importantly, the game is just damn fun to play. James Ernest, once again, proves he has an ineffable sense for near-perfection in game design – balancing a disparate set of elements in just such a manner to make them, ultimately, totally enthralling.
Whatever you do, don't start playing this game unless you've got plenty of time on your hands.
Otherwise, you'll regret it.
Style: 5
Substance: 5
Author: James Ernest
Company/Publisher: Cheapass Games
Cost: $6.95
Page Count: n/a
ISBN: n/a
Originally Posted: 2000/03/12
For an explanation of where these reviews came from and why you can no longer find them at RPGNet, click here.