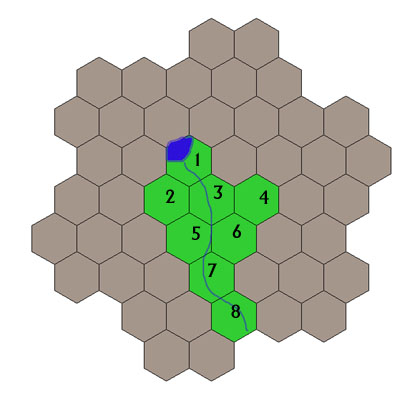 Many moons ago I was talking with a guy online who claimed that, by the year 2017, computer games would exist which would allow GMs to create off the cuff in real-time just like they can currently do at the table. And I said, "Bullshit." (For obvious reasons.) In the process of calling bullshit, however, I ended up creating an example of off-the-cuff design that would be virtually impossible to replicate in a computer game engine even with procedural content generators vastly superior to anything we have available to us today.
It's nothing particularly spectacular, but it's got a few touches of the fantastical that I think are rather evocative and worth sharing.
VALLEY OF THE SAPPHIRE WAVES
The Valley of the Sapphire Waves is filled with rolling fields of vibrant blue grass. Anyone standing in the waters of the valley will perceive the sun as eclipsed because Helios mourns the loss of his first wife (the Ur-Goddess of the Rivers, see hex 1).
HEX 1: The Falls of the Ur-Goddess. The 300 foot tall waterfall at the end of the valley flows up because it is the place where the Ur-Goddess of the Rivers was slain millennia ago.
HEX 2: Obelisk of Moonstone. Raised as a holy site by the Heresy Cult of the Ur-Goddess. The moonstone will heal anyone touching it at night, but under the rays of the sun it is cursed. (Anyone touching it suffers as per a bestow curse spell.)
HEX 3: The Stirge Mires. 1 in 3 chance of encounteing 1-6 stirges.
HEX 4: Goblin Moonstone Scavengers. Small tribe of goblins scavenging the moonstones scattered in rocky crevasses here.
HEX 5: Vale of the Dryad. This forestland is protected by a dryad whose spirit is bound to a treant. All the squirrels here can talk, many spontaneously forming acting troupes performing A Midsummer Night's Dream.
HEX 6: Graveyard of the Moonstone Cults. 1 in 3 chance per turn of encountering 1-3 wights.
HEX 7: Medusa's Vale. A medusa makes her home in the Sinkhole of Statuary.
HEX 8: Sphinx Guardians. Once a great tribe of sphinxes guarded the entrance to the valley (they were placed there by Helios), but their numbers are depleted. 1 in 3 chance of encountering a sphinx, which 75% of the time will be an undead skeleton. Remaining sphinxes will ask sun-oriented riddles before attacking.