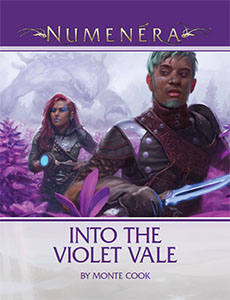 Monte Cook's Into the Violet Vale was released yesterday. This is the Numenera adventure I ran at Gencon this year. It features a nifty in media res opening that will make the adventure a little more challenging to incorporate into an ongoing campaign, but which works great if you're looking to run a one-shot. On the other hand, it's also remarkably flexible and non-linear compared to most convention scenarios I've experienced, so I definitely think it can be worth the effort. I've run it 4 times and found it to be delightful and mind-bending every time.
As part of my prep work for running the adventure, I put together a bunch of resources and an expansive cheat sheet that I think y'all might find useful. And now that the scenario has been released to the public, I can share them with you.
SPOILER WARNING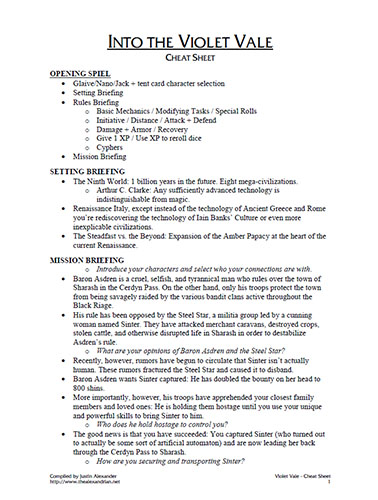 This cheat sheet for the GM supplements the adventure in several key ways:
First, I've prepped a specific MISSION BRIEFING featuring three specific questions to help players orient themselves into the scenario. This is designed to retain the in media res quality of the opening while providing enough context to meaningfully inform roleplaying without requiring the players to simply listen to a big wall of text. (In practice, the answers to these questions often had a radical effect on shaping what followed.) The final question ("How are you securing and transporting Sinter?") is designed to transition with a hard pivot directly into the opening scene.
Second, I've included a lengthy REGLAE REFERENCE. During my playtest, the players really wanted to tear the titular, dimension-warping flowers apart. So I whipped up some really weird, non-terrestial biological traits to reward their attention.
Third, several of my players commented that the adventure felt too "generic fantasy" and didn't do enough to really highlight the awesome "weirdness" of the setting (particularly early on). In an attempt to address this, I've added some EXTRA WEIRDNESS to the abandoned camp at the beginning of the adventure. I've made some similar additions to Lady Weiss and her brute bodyguards.
I've specified FRIN'S CYPHERS. These were just pregenerated randomly, but it let me include them on the cypher cards I prepped for the adventure. (See below.) If you don't want to use those cards, there's no reason you can't just generate them randomly during play.
I've added a bit where the PCs can theoretically MURDER FRIN and reverse engineer an alternative (but dangerous) method of escaping the valley. (This also changes the method Lady Weiss uses to help the PCs escape the valley.)
Finally, I've prepped NPC ROLEPLAYING SHEETS for all of the major NPCs (Sinter, Lady Weiss, Frin, and Meriod). I've talked about these before, but the short version is that I derived this format for NPCs from Mike Mearls' In the Belly of the Beast. I've found that it makes quickly referencing their information and assuming their character so incredibly simple.
OTHER RESOURCES
In addition to my master cheat sheet, I've also prepped these resources: