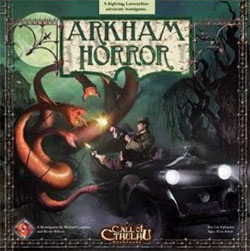 I'm a big fan of co-op games in general and, as I've mentioned in the past, I think they're a great way to introduce new players to theme-rich boardgames.
One potential drawback to co-op games, however, is the "alpha-quarterback": A single player that dominates the game by effectively making all of the strategic gameplay decisions. The alpha-quarterback might be the person most familiar with the game, a person with generally deeper strategic insight, or just a forceful personality. Whatever the case may be, however, the result is that only one person is really playing the game and everybody else at the table is reduced to being their pawn. (A related problem can also occur if four or five more experienced players are all collaborating as a collective "alpha-quarterback", while one or two new players are effectively turned into spectators.)
In most cases, quarterbacking can be avoided through the simple expedience of the more experienced players simply choosing not to do it: Instead of making decisions for new players ("you should go fight that monster"), they can use their expertise to discuss the general strategic situation and then offer the new player a few options of actions that they might want to consider.
Because it's generally possible for people to choose not to be jerks, a lot of people think that quarterbacking in co-op games is only a "people problem" that isn't really relevant to game design itself. This, however, is an over-simplification: The problem with co-op games that are trivially quarterbacked is that they're really solo problem-solving games that are masquerading as games for multiple players. (Pandemic is an excellent example of this type of game.) It's like adding a rule to Solitaire saying that two players should alternate turns and then claiming that it's a two-player game.
There's nothing wrong with alternating-play Solitaire if everybody's having fun, of course. But it's not an ideal way to design a game even if an individual group doesn't default to quarterbacking while playing it.
DESIGN SOLUTIONS FOR QUARTERBACKING
The solutions for quarterbacking are:
HIDDEN INFORMATION. (Which often doesn't work because there's no motivation not to share the information, but can at least create the impression that individuals are contributing by discussing the information they have access to. However, games like Hanabi make hidden information co-op work by making the hidden nature of the information integral to the game design.)
TACTICAL DEPTH. (In these games, groups may coordinate on a large-scale strategy but there's enough tactical depth in each player's execution of that strategy that individual players are still allowed to play the game even with aggressive quarterbacking happening in the same room. Arkham Horror, for example, does this with a fair amount of success: Quarterback all you want, but the individual players are still responsible for playing through their encounters.)
INCOMPLETE INFORMATION. (By hiding information from all of the players, decision points are turned into a gamble. A simple version would be a draw deck containing white and black cards: If a white card is drawn, certain actions will be advantageous. If a black card is drawn, a different set of actions will be advantageous. Players can offer input about which card they think it's going to be, but nobody really knows and so it's ultimately up to the current player to make the guess and determine which set of actions they should be attempting. Knizia's Lord of the Rings, for example, does this with a stack of tiles that determine the pace and sequence of various horrible things. The shortcoming of this solution is that if the system is actually completely random, then the decisions are meaningless. And if it's not completely random, then there's a viable strategy and that stategy is still open to quarterbacking.)
TRAITOR MECHANICS. (These enforce the hidden information solution by providing a motivation for concealing information. Battlestar Galactica does this, for example.)
REAL-TIME PLAY. (These enforce the tactical depth solution by making it impossible for a single player to make all the decisions that need to be made within the time allowed. Space Alert and Escape: The Curse of the Temple are examples of this.)
Of these solutions, real-time play seems to be the only surefire solution to the quarterbacking problem. (Hidden information can be shared, tactical depth can still be micro-managed, incomplete information still lends itself to strategic quarterbacking, and a game with a traitor isn't actually co-op). Other co-op games generally need to rely on a mixture of techniques to mitigate the quarterbacking problem (although exceptions like Hanabi do exist).
(It should also be noted that the "this is really just Solitaire, but you alternate turns" problem isn't limited to co-op games. For example Dungeon Roller pretends to be a competitive game, but is really just two people playing solitaire and then comparing their scores.)