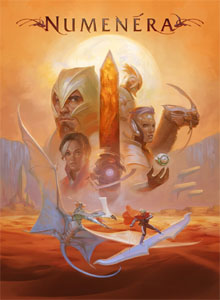 Some quick mechanical background for people unfamiliar with Numenera: In this system, you deal flat damage based on the type of weapon you use. (A light weapon does 2 points of damage; a medium weapon does 4 points of damage; and a heavy weapon does 6 points of damage.) You can increase the amount of damage you inflict by exerting effort or by rolling well on your attack roll. And, finally, you subtract the target's armor value from the damage inflicted before applying it to their health pool.
This means that the key armor values in Numenera are 2, 4, and 6: At armor 2, you can't hurt it with a light weapon unless you use effort. At armor 4, you can't hurt it with a medium weapon unless you use effort. And so forth.
Now, let's talk about items: Items are assigned a health pool and an armor value. The armor value for an item can be 1 (hard objects), 2 (very hard objects), or 3 (extremely hard objects).
This means that, mechanically speaking, the game is asking the GM to make an assessment: Can you hurt this with a dagger? Can you hurt this with a dagger if you use some effort?
Once you express it in those terms, it becomes pretty easy to see that, objectively speaking, the system is producing really unrealistic results. (If you're wielding anything larger than a dagger, you're going to be able to break literally anything in the game world. And you are probably going to be able to break it very quickly and with very little effort.) And from a mechanical standpoint, it would be much more interesting for the GM to have a richer panoply of assessments to trivially choose from.
My recommendation is to set the object armor values at the key armor values indicated above:
Vulnerable objects get 0 Armor
Hard objects get 2 Armor
Very Hard objects get 4 Armor
Extremely Hard objects get 6 Armor
Impervious objects get 12 Armor
You can hit that marble statue with your dagger all day, but unless you spend some effort to find a key weak point you're not getting anywhere. You're probably going to want to something big and heavy to pound through a metal door. Et cetera.
("Impervious" objects aren't actually impervious here. But 12 Armor seems like a decent figure for something that could be physically destroyed, but which would require significant effort. Leaves the door open for creative thinking. If something were truly indestructible in some metaphysical sense, I just wouldn't bother putting stats to it.)
You can also look at these revised mechanics in terms of how they interact with each type of weapon when wielded by a tier 1 character:
Light weapons aren't very effective against tougher objects. They can only damage hard objects (stone) if they spend some effort (+3 damage). They can deal a little bit of damage to very hard objects (made out of metal) with effort, but it's very unlikely that they'll effect extremely hard objects (it would require a combination of effort and a special ability or great die roll). It's virtually impossible for them to affect impervious objects.
Medium weapons can hack through hard objects with patience, can damage very hard objects with a little bit of effort, and can even make pretty quick work of extremely hard objects. Impervious objects are probably out of reach, unless special powers get involved.
Heavy weapons will annihilate most vulnerable objects in a single blow, smash through hard objects with a couple of solid blows, and make very quick work of very hard objects. Extremely hard objects will require a bit of effort, but can be managed. Impervious objects can get dinged up, but it's going to take a really long time.