IN MEDIAS RES
Framing a scene in medias res is to start things in the middle of the action. It's an effective technique because it jump-starts the scene at its most exciting or interesting part. In other mediums it also intrigues the audience by creating a mini-mystery: How did the characters find themselves in this precarious situation?
This element of mystery in the in medias res becomes problematic in an RPG, however: While it's all right for an audience to remain ignorant of how the characters found themselves in their current circumstances, that can create significant issues when the players are supposed to be the characters and need to know what they know so that they can make coherent decisions.
Let's lay the mini-mystery aside for a moment, therefore, and focus on a more basic form of in medias res that I highly recommend regardless of your predilections: Framing past the entrance.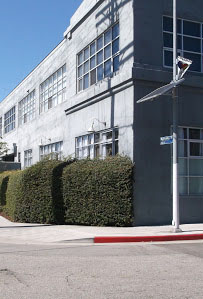 GMs tend to frame to the arrival: If the PCs are heading to a warehouse, the GM will cut to their car pulling up outside the warehouse. If they're going to question a suspect, the GM will cut to them knocking on the suspect's door. It's a safe choice, but it's frequently unnecessary. For example, if you know that the PCs are going to Boss Man's office to search for clues, you don't have to go through the laborious process of having them enter the office building, pick the lock on his door, and so forth. Instead, you can cut straight to them rifling through his filing cabinets and pulling out the incriminating documents.
This works because the assumptions you're making in framing the scene are obvious: You're assuming that the PCs are, in fact, going to do what they said they were going to do. And you're assuming that they will be successful in doing it. (If the latter is in doubt, of course, you'd call for an action check and then frame accordingly. For example, if the PCs fail an infiltration check then you might frame to the moment where the flashlight of a security guard flashes across them.)
ADVANCED IN MEDIAS RES
More dramatic examples of in medias res are common in other mediums, but relatively difficult to pull off in an RPG without railroading. But it can be very rewarding if you can make it work.
In my experience, that requires a high degree of trust and understanding between the GM and the players: The GM needs to know his players and their characters well enough that he can accurately predict their reactions. And then the players need to have enough trust in the GM to believe that he has made an accurate prediction.
However, there are also ways that the GM can "cheat" in order to achieve satisfactory in medias res scene openings. A basic method is, "Why are you here?" The GM opens the scene by saying something like, "You're in a dark tunnel underneath the Parker Corporation's headquarters. Why are you here?"
This technique basically says, "Yup, we're railroading to this point. But I'm going to mitigate it by giving you some influence over exactly what model the locomotive is going to be." Obviously that's a lot heavier handed than a lot of people are going to be comfortable with. (It's way out of my personal comfort zone.) But if it works for you and yours, the pay-off is that you can get away with much harder frames and much tighter pacing.
Another "cheat" is to use the in medias res in combination with a flashback: You show the PCs mired in a situation and then use a flashback to establish how they got there. The "future" knowledge of where they end up obviously constrains choice, but once again you're mitigating the heavy hand you're applying by allowing the players to influence (or even define) the path that leads to the events they've seen. (And there can be a fine art in portraying something compelling in your flashforward which is not particularly binding in its content.)
EPILOGUE SCENE
An epilogue scene is a specific type of color scene which immediately follows a major conflict or bang. During the epilogue scene, the characters are able to reflect and react to the things that just happened to them.
The purpose of the epilogue is both aesthetic and practical. (And it's practical in both the game world and the metagame.) Aesthetically it provides a natural formula for effectively varying the pacing of your game: Moments of high tension and exciting action are contrasted against the relative calm of the epilogue which puts those moments into a larger context of progress or setback or revelation.
In the context of the metagame, an epilogue scene is practical because it often comes at a moment when the players and/or GM need to take stock: Damage needs to be healed. Resources need to be tallied. Notes need to be consulted. If your group can develop the ability to roleplay effectively through these moments of mechanical bookkeeping it can greatly enhance your game sessions. (Note that the roleplaying does not necessarily need to be about the mechanical bookkeeping that's happening: It's possible to say "we heal everybody up" and then handle the mechanics of that while actually roleplaying a later scene in which the PCs are discussing their options for raiding the palace.)
Meanwhile, in the context of the game world, it's perfectly natural for people to kick back, relax, and take a moment to recover from a stressful situation. Or to sit down and try to talk their way through earth-shaking revelations. ("Dude, you've gotta bring me some beer. Betty just broke up with me. Also, I think she's been possessed by a demon.")
In practice, these scenes will often happen quite naturally if you give the PCs a bit of rope. If you're using harder scene framing, however, you really shouldn't neglect them.
An effective technique for this sort of thing is to establish common "set pieces" for epilogue scenes. For example, in my Ptolus campaign these scenes often happen in their rooms at the Ghostly Minstrel, during a carriage ride across the city, or while they're looting the bodies of the dead and tending their wounded. We've established these as common themes in the campaign and when they show up the group has naturally developed a habit of falling into an epilogue scene.
DISRUPTIVE PACING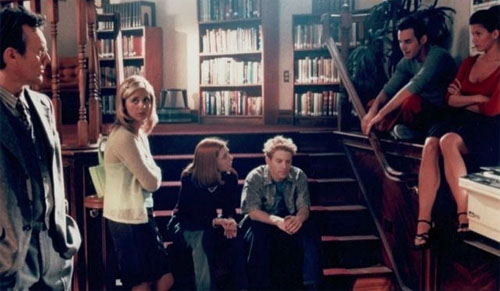 In Buffy the Vampire Slayer, epilogue scenes often happened at the school library or (in later seasons) at the Magic Box. But Buffy is also a great example of how you can use a set piece for epilogue scenes and then shift it by occasionally dropping a conflict into the location. This is a basic example of disruptive pacing.
The pacing of a book or movie often falls into a repetitive pattern. The same is true of an RPG. This regular rhythm can be very satisfying in its familiarity (particularly when it feels like the whole group is suddenly on the same page and participating in the ineffable synergy of an instinctive collaboration), but it can also easily become stupefying or stale in its predictability. To avoid that, you need to occasionally disrupt the familiar pacing by throwing in something unexpected: A scene that should be color suddenly erupts into conflict. A sequence that feels as if it's winding down is abruptly escalated with a fresh bang.
What's interesting about disruptive pacing is that it can easily degrade back into the expected. For example, the first time a supposedly dead monster suddenly reappeared during what was supposed to be the epilogue of the film it was wildly successful disruptive pacing. Now, however, it's become part of the expected pacing for a horror film: You're more shocked when the slasher villain stays dead than you are when he suddenly pops back to his feet.
CONCLUSION
I really can't emphasize enough the degree to which we've barely even begun to scratch the surface of RPG pacing in this essay.
On the other hand, that may be for the best: While film, for example, has certainly benefited from a richer understanding of how pacing can be used in the filmmaker's toolkit, the process of effectively pacing a film is still very much an art rather than a science. Similarly, it can be a little too easy to fall down the rabbit hole of one-true-wayism if one tries to develop trite maxims.
Instead, I hope that I've managed to convey a handful of useful conceptual tools that you can use in a myriad number of ways to better understand and control the pacing of your own campaigns. How you choose to use those tools is up to you: Experiment with them. Play with them. See what you can discover and what you can improve.
SUPPLEMENTAL READING – THE ART OF PACING
Film Banging: The Avengers
Film Banging: Alien
Film Banging: The Matrix
The Art of Pacing: Prepping Bangs
The Art of Pacing: Running Awesome Scenes
How NOT to Frame a Scene
FURTHER READING
The Art of Rulings
The Art of the Key
Gamemastery 101