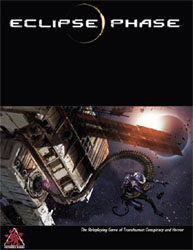 The Eclipse Phase universe, like a lot of science fiction universes, features faster-than-light travel (in the form of the Pandora Gates) and FTL communication (in the form of quantum-entangled transmissions). If relativity is true (and, in the real world, we have copious evidence that says that it is), then this is impossible.
This tends to get hackles raised from those who are unhappy with a universal speed limit, but this Wikipedia article gives a pretty good explanation of why FTL causes time travel. There's really no way around it: If FTL communication is possible, then Alice really will receive an FTL reply from Bob before she sent the original FTL message. And once you can do that, it's trivial to create causality violations. (Particularly if we replace "FTL message" with "FTL travel" so that Alice can go some place, come back before she left, and shoot herself in the head.)
The realities of relativistic speeds are deeply unintuitive to us, but they are no less real because of that. Without getting elbow-deep in the math so that we can really grasp what's happening, we're not going to spontaneously discover something that the last five generations of very clever scientists have overlooked. There is no easy escape hatch.
But recently I was drawn into a discussion of how the FTL "realities" of the Eclipse Phase universe could be handled. Here a few approaches you could take:
OOPS…
I guess relativity was wrong after all. Oops.
There's really no way to pull this off without ignoring a century of scientific data, but we're just going to ignore that: FTL works and there's no causality violation because, ta-da, we said so.
To be fair, general relativity and quantum mechanics are fundamentally incompatible with each other and something's going to have to give if we're ever going to reconcile those theories. It could be the light speed limit that'll need to be jettisoned (although it's entirely unclear why or what form the resulting scientific theory would take).
This is, basically, the approach Eclipse Phase takes: QE-based communication alone completely ruptures relativity at a local and immediate level. Ergo, relativity must not be true. Fly, Skylark, fly.
MUST… GO… FASTER…

But let's wave our hands a little faster.
It turns out that hyper-luminal drives actually increase the local speed of light not just for the ship, but for all spacetime within the light cone of that ship. There are no causality violations because the ship never actually goes faster than light (just faster than light was going last week), but suddenly the radio waves from Earth are reaching Mars much faster than they were before. In fact, it turns out that most of the dark energy in the universe is just a by-product of extragalactic FTL civilizations and tachyons are basically a form of interstellar pollution.
For the purposes of Eclipse Phase, let's just ignore QE-communication for the moment and focus our attention entirely on the Pandora Gates. It turns out that this "speeding up the speed of light" effect of hyper-luminal travel is heavily gradated due to the vast distances being traversed by the Gates. But people begin to suspect what's happening when scientists begin detecting small "speed-ups" in interplanetary communication systems. (And it's possible the scientists weren't the first ones: There have some anomalous trades on the Planetary Stock Exchange that could only be possible if someone knew they could take advantage of discontinuities in communication speeds.)
OUT OF THIS WORLD
Or maybe causality violations resolve themselves through some variant of the many-worlds hypothesis: Alice leaves at FTL speeds, returns before she left, and then shoots herself in the head. But causality isn't violated because Alice the Murderer can still trace her personal timeline into a different world where the shooting never took place.
The universe where this happens, however, is a complete disaster: Causality may not technically be violated as it leaps from one spacetime to another, but from a local perspective it's shredded into pieces. The solar system becomes filled with nonsensical events that we can't really comprehend: Revolutions are thwarted before they started, but then instantly won by time-traveling revolutionaries who blah blah blah, my brain hurts.
Interesting thought experiment, though: What does the universe where Alice the Murderer zoomed off at FTL speeds look like? Well, in that universe she simply disappears the minute she turns around and violates causality (having skipped into a different universe where her return isn't an immediate paradox). In this scenario you might actually end up with a very large number of universes which this causality-violating Alice simply "skips through" creating ghostly, quantum-froth blips as she sequentially violates causality in one after another. (Once again, we could hand-wave violently and pretend these causality-busting events are happening around us all the time and are the source of dark energy or quantum manifestations or any number of things.)
But here's the important bit: In the universe where we sent Alice away at FTL speeds, she simply vanishes and we will never see her again. If she turns around and tries to come back, she (and anyone else trying that stunt) will vanish into an alternate dimension never to be seen again.
In the Eclipse Phase universe, though, we've been doing this for awhile now: We send Alice out at FTL speeds through the Pandora Gates and we bring Alice back at FTL speeds through the Pandora Gates. Everything seems fine. But then we crack the science and discover that Alice can't come back: When she comes back, she flips out of this dimension and is never seen again.
But if Alice can't come back… who the hell is the "Alice" who came back through the Gate? What the hell is the Alice who came back through the Gate?