Over at Gnome Stew, Patrick Benson has proposed the "Orbital Path Method of Plot Design". I know I've said in the past that you should never prep a plot, but you might want to check this out because I think it has some conceptually useful stuff for node-based scenario design. Here's the gist of it: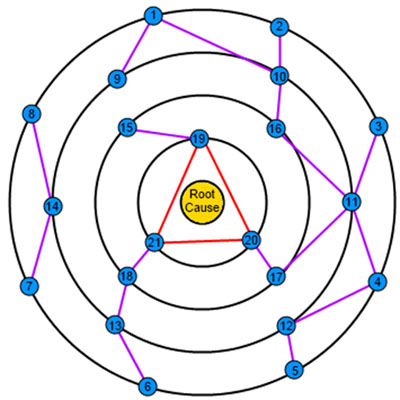 Using my terminology, each of those numbered dots is a node and you can follow any line from one node to another. So, for example, node 6 would have links to nodes 5, 7, and 13. Benson says that the "kicker" for the campaign should introduce several of the nodes in the outer ring and then play would proceed from there.
From a conceptual standpoint, what I find useful here is the visualization of escalation: As you move closer and closer to what Benson describes as the "root cause", the stakes or difficulty or intensity or whatever increases.
I think this approach has a few practical problems: Like most diagrammatic approaches, it tends to artificially constrict navigational paths. The lack of backwards motion within the design scheme may tend to leave a lot of "abandoned" nodes in the players' wake. That, combined with the seeming preference for a large number of "outer" nodes and a lower number of "inner" nodes will probably result in a lot of wasted prep.
Despite that, I thought it was a really interesting approach to visualizing the relationships between nodes. Check it out.