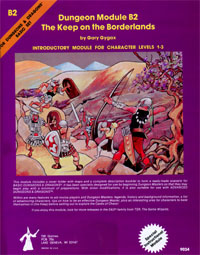 Couple congruent thoughts synchronistically spun themselves into my head recently.
First, Delta's D&D Hotpost asked, "Was Module B1 a Good Design?" This revived my old argument that B1, B2, and the original version B3 are — at least conceptually — a really solid introduction to dungeoncrawling:
B1 teaches the DM how to key a dungeon. For those unfamiliar with it, the module provides a map with an incomplete key: Rooms are described, but blanks are left for monsters and treasures. At the back of the module, a list of monsters and treasures are provided: The DM is supposed to take them and assign them to rooms. In practice, this teaches the DM that:
(1) Rooms are not defined by the monster you fight in them.
(2) The distribution and arrangement of monsters and treasure will fundamentally change the gameplay of a dungeon.
(3) You can stock a given chunk of geography in many different ways (and many different times).
B2 teaches the players how to play. When you go the Caverns of Chaos, you enter a valley and the first thing you see are a dozen cave entrances: So the very first action the players have to take in the module is to make a choice. And the choice they make will completely alter the future course of events through the module. It's an incredibly empowering moment and a really important lesson for any player of an RPG to learn.
Finally, the original version of B3 (which was very different from the version eventually published) introduced what was originally supposed to be the centerpiece of every D&D campaign: The megadungeon. Jean Wells provided the upper levels of the dungeon, but included several "empty" rooms which the DM was supposed to key for themselves. And she included a number of passages that would lead down to lower levels that the DM was supposed to design for themselves. Although sometimes crude and inadequate in its presentation, B3 would have transitioned the DM into designing and expanding their own megadungeon on the superstructure it provided.
None of these modules were perfect. But new players who worked their way through them received a really solid education in what it meant to run and play an RPG.
In the years since then, a lot of introductory adventures have been produced by the RPG industry. And the interesting thing about most of them is that they take a very different approach: They try to simplify and carefully curate the first experiences of new players. They spoon-feed the GM and hand-hold the players.
Which brings me to the second thought, this one from the Psychology of Video Games: "How Game Tutorials Can Strangle Player Creativity." In this essay, Jamie Madigan discusses a psychology experiment which demonstrated, in brief, that:
(1) If you take a toy with many different functions which are not immediately evident and introduce a child to it by "spontaneously" discovering one of its functions, then the child will experiment with the toy and discover its many different functions.
(2) But if you take that same toy and introduce a child to it by saying, "This is an awesome toy. Here's how you use it." And then demonstrate one of its functions, the child will spend less time playing with the toy and discover fewer of its functions.
(Madigan's discussion of the study is excellent. I recommend clicking through the link and reading the whole thing.)
The application to roleplaying games should be almost self-evident: Introductory scenarios should be robust (so that new players don't become stymied or lost). But that robustness should not take the form of hand-holding or railroading. If you want to introduce a new player to roleplaying games, then you need to embrace the Caverns of Chaos: You need to show them twelve options and say, "The choice is yours."
Because, ultimately, it is that power of choice which makes RPGs special and exciting and worthwhile.