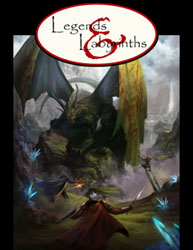 This is not really an update for the status of Legends & Labyrinths because there's not really anything new that I can discuss right now: The hold-up remains the artwork that was offered as a contributor reward. When the original artist flaked it initiated a series of cascading failures.
But I did want to generally assure people that progress is being made. And I'm hoping to have an actual update sooner rather than later. Until I have something actually concrete and in my hands, however, I don't want to get into the business of publicly counting my chickens before they hatch.
I appreciate your patience, and I hope you can believe me when I say that nobody wants this ordeal to be over more than I do. There are days when this book feels like the Rock of Sisyphus to me, but I have to honestly believe that eventually the rock will find its resting place; you'll all be able to enjoy the game; and I'll be able to move on to new projects.
Thanks.