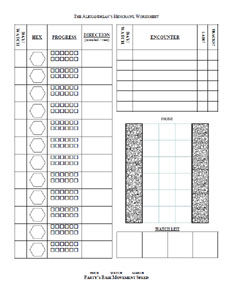 (click for PDF)
This worksheet may not be the prettiest thing you've ever seen, but I designed it for tracking key information while running a hexcrawl and I've found it to be useful. The sheet is broken down into several parts.
HEX TRACKER: The left column is a hex tracker. Write down the current day and watch in the left hand column (for example, 3-1 is the first watch on the third day), then mark the hex the party is currently in and their intended direction of travel. Add information on veer if the party gets lost and use the check boxes to mark off progress.
When you run out of check boxes, the party has left the hex. Reference their intended direction of travel and veer to determine what hex they've entered and write that down in the next row. Repeat.
ENCOUNTER LIST: In order to save time, I'll pregenerate encounters and write them down here. Use left hand column to note what day and watch the encounter will occur during, write the encounter you generate in the center column, and indicate if it's a lair or tracks encounter (if necessary).
If you generate a location encounter, just write LOCATION in the encounter box.
MARCHING ORDER: Below the encounter list there's a graphical depiction of a dungeon corridor that you can use to write down the party's current marching order. (It works as well in the wilderness as in the dungeon, of course.) The worksheet was designed for the original 1974 rules, so it gives enough space for 3 people to march abreast down a standard 10′-wide corridor. If you're using a rule system that only allows for 2 people to march abreast, adjust accordingly.
WATCH LIST: Below the marching order we have a watch list. This basically assumes that the party travels for two watches per day and then rests for four watches. Write down the characters standing guard during each watch in one of the boxes.
PARTY'S BASE MOVEMENT SPEED: Fairly self-explanatory. Figure out who the slowest member of the party is and jot down the appropriate values here.
This material is covered by the Open Game License.