Consider, for a moment, the explicit game structure presented in the original Traveller.
(1)   Create a subsector. For this, the game gives guidelines for creating a starmap; populating that starmap with planets; determining the population, law level, and technological level of those planets; determining travel zones and trade routes; and so forth.
(2)   Own a starship. The game offers several options by which the PCs can own, lease, or otherwise operate a starship.
(3)   Interstellar movement. Providing mechanics for determining how far and how fast PCs can move between planetary systems.
(4)   Trade and revenue. Finally, explicit guidelines on how revenue can be earned by carrying cargo, passengers, and the like.
When you boil it down, this is Firefly: The Roleplaying Game.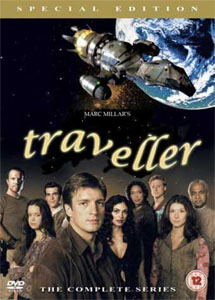 But what this scenario structure notably lacks is any support for play below the interplanetary level. Traveller recognizes this lack and works to patch the hole with the concept of the Patron:
The key to adventure in Traveller is the patron. When a band of adventurers meets an appropriate patron, they have a person who can give them direction in their activities, and who can reward them for success. The patron is the single most important NPC there can be. (Book 3: Worlds and Adventure)
Basically, the patron serves as a default method for delivering adventure seeds to the PCs. And Traveller integrates the patron into its larger game structure by triggering patrons through its random encounter system. (So, basically, every time the PCs fly into a starport there's a chance they'll be contacted by someone with a special job.)
Of course, this still leaves the vast gulf of what the game structure for the actual mission itself is. But it's not as if Traveller is alone in having such gaps in its scenario structure. In fact, virtually all RPGs have such gaps. (And, at a micro-level, virtually all RPG mechanics constitute incomplete game structures, as our example of the Duchess of Canterlocke demonstrated.)
MECHANICS WITHOUT STRUCTURE
I've long maintained that RPGs naturally gravitate towards their mechanics. For example, when I added counter-intelligence mechanics to D&D, counter-intelligence suddenly became a significant part of my campaign. When I added usable encumbrance mechanics to my OD&D campaign, encumbrance-based gameplay immediately followed.
What's even more true, however, is that RPG gameplay naturally gravitates towards structure. Because they're open-ended, of course, RPGs are not bound to their structure (like a boardgame is) and good game structures in RPGs won't act as straitjackets, but clear game structures nevertheless attract players and GMs alike.
Or, to put it another way: If you're in a dungeon, at some point you're almost certainly going to start dungeoncrawling.
An interesting corollary of this is that mechanics which aren't (a) required by a well-defined game structure or (b) enhancing a well-defined game structure are often ignored.
As a result of this corollary, you'll often find popular game systems ringed with a large number of rules which nobody uses. Many of these rules seem to accumulate from a vestigial urge for simulationism.
This is particularly true with specialized supplements. For example, the D20 market is crammed full with supplements that aimed to provide the "Definitive Guide to Ships". The little simulationist urge says: "There are ships in fantasyland. So we must need rules for ships."
But once you have them, what do you do with them?
A typical seafaring supplement, for example, usually included all kinds of rules for varying the speed at which a group traveled: The ship they're using, wind speed, crew experience, navigation checks, weather conditions, tidal drifts, and so forth. But unless you're using a scenario structure in which travel time matters – and in a modern era of railroaded scenarios, it generally doesn't – all of these rules are pretty much irrelevant. Oh, having some guidelines for how long it takes to get from Point A to Point B is nice, but anything involving a lot of calculation which varies from one day to the next is basically useless chaff.
That's how you get books full of feats that nobody takes, spells that are rarely cast, rules for ramming that nobody bothers with, and so forth. Without a supporting scenario structure, this stuff just flounders: It occasionally gets toyed with, but it rarely gets used.
But imagine for a moment that someone took the time to design a fully-integrated scenario structure for sea-based play that, for example, made playing a pirate or a privateer just as much fun as dungeoncrawling or solving mysteries. You could build entire campaigns around this structure, or just slot it in as appropriate. Maybe you could even go ahead and publish a full campaign that people can just pick up and play. Suddenly all those rules for handling crew morale and ship-to-ship combat are being used.
And if your new scenario structure were really successful, suddenly you'd have opened up a whole new market for support products.
THE VALUE OF PARTIAL STRUCTURES
The "gravitational effects" of clearly defined game structures may also help to explain why even partial scenario structures have often proved monstrously successful in the RPG industry.
For example, consider Shadowrun and Paranoia. Neither game features a comprehensive scenario structure, but they both have default methods for delivering scenario hooks which also tend to lend a common shape to their scenario concepts. And you can see evidence for the efficacy of these techniques in the number of "traitorous Mr. Johnson" stories you see from Shadowrun and the number of "briefing room horror stories" you see from Paranoia.
In fact, even partial scenario structures seem to be very effective at providing a commonality of experience which can draw a player base together into more meaningful communities. (This is particularly true for default scenario hooks.) Such communities provide a strong network effect which further strengthens the game.
This commonality of experience also makes it possible to produce supplements which target that common ground. 76 Patrons for Traveller or Mr. Johnson's Little Black Book for Shadowrun are obvious examples given the context of our current discussion, but it's particularly true when it comes to adventure modules: You can trivially produce an adventure module for D&D which could theoretically be plugged into 90% or more of the current campaigns being run in the system. On the other hand, it would be essentially impossible to produce a Heavy Gear module for which that would be true.
Of course, having a viable market for those kinds of adventure products makes it easier for a publisher to produce adventure products. And having adventure products available makes it easier for new GMs to start playing the game. Which further enhances the network externality of the game.