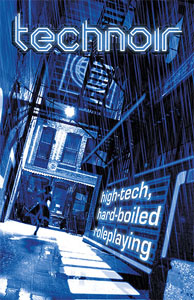 A missing aspect from Technoir's scenario structure is the scenario hook: The plot map will tell you what's happening, but it won't tell you how to get the PCs involved in it.
(To be clear: I'm not holding this against Technoir. The game actually provides quite a bit of guidance on how to motivate noir characters and includes a nascent structure by which the players will actually prompt you to give them the scenario hook. This is more than most RPGs do.)
But as you stare at your mission seed – madly brainstorming possible hooks – here's my playtest tip: Set the PCs into immediate opposition with each other.
Here are some genericized examples of how I've done that:
One PC has been framed for murder. Another PC has an appointment to show up at the murder scene. A third PC has received an anonymous tip that they should show up at the murder scene about 5 minutes after the second PC.
Two members of the group are hired to deliver a package. Two members of the group are hired to prevent the delivery of the package. (Leaving me madly curious to see which half of the group is the first to call the fifth PC for help.)
A PC has been deliberately framed for a crime. The other PCs are sent to track her down and find out what she knows.
As the PCs start fighting with each other, they'll start generating strongly-motivated drama without you ever needing to lift a finger. Simultaneously, they'll start spending push dice on each other, allowing you to build up a stockpile to hurt them with when the bad guys make their move.
A couple of things to watch out for with this technique:
First, the push dice economy of the game requires that the GM spend his push dice to get them back into the hands of the players. If the PCs are just fighting each other, this can be difficult to accomplish and the game will flounder as the push dice all become concentrated in the GM's hands. You have to look for your opportunities (the bar patron who gets angry that his drink was spilled; the cops who don't like having their time wasted; etc.) and try to find the moment when you can get them turned back to the main plot and introduce some threats to antagonize them.
Second, when the PCs go to their contacts asking for leads on each other, it can be tempting to think of this as being a "special case" that somehow doesn't apply to your plot map. Don't do that. Stick with the rules for generating your plot map: A lead can point them in the direction of the PC and be connected to the conspiracy.
The flip-side of that is that the PCs — occupied with each other — may not hit up their contacts for leads or information. If that happens your plot map can stagnate. In this scenario, a friend of mine with experience GMing Technoir recommends randomly generating a threat, figuring out what their agenda is, and then essentially running them in the background as an independent PC: This allows you to develop your plot map and figure out what's going on. Once you've got enough pieces in play, you should be able to start using those to hook the PCs back into the conspiracy. (I'll be giving this a try in the near future.)