Yesterday I posted Don't Prep Plots: The Principles of RPG Villainy. It was the first article here at the Alexandrian that was made possible entirely through the support of my patrons. I want to take a moment to call attention to the Patrons of the Alexandrian page I've created to thank them and recognize the contribution they're making to the site.
This is the last post I'll be making about my Patreon for awhile, but there's a lot of nifty content coming down the pipe that will only exist because of the Patreon. Everyone reading this is going to have the opportunity to enjoy all that niftiness because of my patrons and I really can't express my appreciation for that enough. It's amazing to me that we're basically only $7 away from the So You Want To Be a Dungeon Master? milestone goal. If just 30 people interested in seeing a step-by-step practical guide to GMing from me were willing to pledge $0.25 per post, I'd be able to start tackling that truly monumental project.
It's so cool.
$0.10? $0.25? $1.00?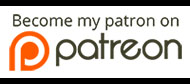 … even the smallest of pledges can add up to wondrous things.