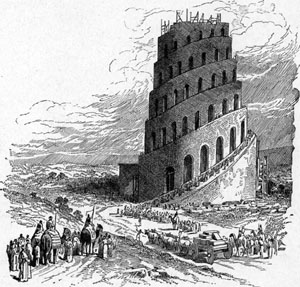 BABBLE
Level: Brd 2, Clr 3, Sor/Wiz 3
Components: V, M/DF
Casting Time: 1 standard action
Range: Close (25 ft. + 5 ft./2 levels)
Target: Up to 3 creatures + 1 creature per level
Duration: 1 hour/level
Saving Throw: Will negates
Spell Resistance: Yes
This spell curses those afflicted by removing their ability to speak, read, or otherwise communicate in the language they share most in common. (This will most typically be the common tongue itself.) This is not limited merely to communication with  each other — rather, the language itself is stricken entirely from their minds for the duration of the spell.
The babble cannot be dispelled, but it can be removed with a break enchantment, limited wish, miracle, remove curse, or wish spell.
Material Component: A lump of clay which transforms into a small model of a ziggurat if at least one target fails their saving throw.