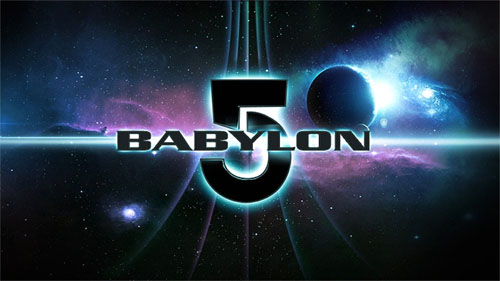 Babylon 5 is one of my favorite TV series. In the late-'90s, when the series was being rerun daily on TNT, I would set my VCR to record each new episode before leaving for my nightly shift at Hollywood Video. When I would get home, I would immediately head to the TV, rewind the tape, and watch the next episode. It was absolutely compelling television.
With that being said, I've found it very difficult to convince people to try to the show. The difficulty is that the first season is fairly dreadful. Unfortunately, the first season also establishes a lot of stuff that gets huge payoffs later on. B5's ability to manage its meta-arc — setting up material that gets paid off years later — is one of the things that makes the show great. And so I'm always loathe to tell people to just "skip the 1st season", because I think that actually does degrade the rest of the experience.
So what I used to tell people was, "Just try the first season. Its got some rough patches, but it's worth it for the payoff. If you just can't stomach it, then skip to the second season."
But most of those people would hit the first season wall, bounce off, and not bother trying the second season. The result was like being stuck in the Kobyashi Maru when trying to get people to give this amazing show enough of a fair shake for it to blow them away.
To that end, I prepared a viewing guide for the first season. It worked for my wife, so I'm declaring it a complete and utter success.
WATCH – Must watch to get essential arc developments. Some of these are mediocre, but it'll be worth it for the pay-off. Trust me.
SKIP – These are the episodes which will probably make your eyes bleed. For the love of god, don't watch them.
OPTIONAL – These episodes are decent or better. Some of them are very good.
OPTIONAL (CLASS 1) – These episodes are recommended for arc reasons, but not required. Basically, there's nothing essential here, but there may be a few minor developments that will heighten your appreciation of later material.
Some of the Optional and Skip episodes on the list below include some key exposition. This has been indicated with a note where appropriate.
So if you've bounced off Babylon 5 in the past — or know someone who has — give it another shot and let me know how it goes. (And, seriously, if the first season is completely intolerable give the second season a shot.)
EPISODE LIST
The Gathering – WATCH

Midnight on the Firing Line – WATCH
Soul Hunter – Optional (Class 1)
Born to the Purple – WATCH
Infection – SKIP (1)
The Parliament of Dreams – WATCH
Mind War – WATCH
The War Prayer – Optional (2)
And the Sky Full of Stars – WATCH
Deathwalker – Optional (Class 1)
Believers – Optional
Survivors – Optional (Class 1)
By Any Means Necessary – Optional
Signs and Portents – WATCH
TKO – SKIP (3)
Grail – Optional (4)
Eyes – WATCH
Legacies – WATCH
A Voice in the Wilderness – WATCH
A Voice in the Wilderness, Part 2 – WATCH
Babylon Squared – WATCH
The Quality of Mercy – WATCH
Chrysalis – WATCH
NOTES
(1) – There is an organization known as Interplanetary Expeditions. They are reputedly a front organization for a bioweapons corporation.
(2) – Anti-alien sentiments on Earth are turning violent.
(3) The B-plot of this episode is good. If you're feeling adventurous, skip any scene that doesn't have Ivanova in it.
(4) There's a ghetto called Down Below populated by Lurkers who came to the station looking for a better life and have fallen through the cracks.