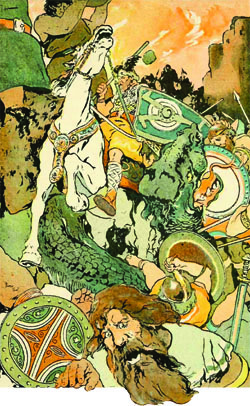 1. INTRODUCING NEW PLAYERS
Legends & Labyrinths is an ideal way to introduce new players to your existing 3rd Edition game: It gives them a simplified set of rules that are easier to learn and use. This is particularly true of character creation, which has been boiled back down to the classic trio (roll attributes, pick race and class, select equipment).
And because Legends & Labyrinths is 100% compatible with the advanced rules, you can just gradually add complexity until they've learned all the bells and whistle of your full 3rd Edition campaign.
2. MINIONS AND POTENTATES
These fast, easy templates can be applied to any 3rd Edition monster to create a horde of mooks or a powerful solo encounter. Actually, describing these as templates is probably misleading: Templates have traditionally involved a lot of fiddling math, but creating a minion or potentate is more like flipping a switch. Blink and you're done!
3. ENCOUNTER BUDGETS
Ever get tired of trying to figure out what EL you're dealing with when you've got an encounter featuring five CR 8 creatures, a CR 9 creature, a pair of CR 10 creatures, and a CR 14 boss just to round things out? Legends & Labyrinths includes a super-simple encounter budget system that makes prepping complex encounters a breeze.
4. FAST-AND-EASY NPC STATS
Remember the days when you could basically create a full-fledged NPC by just saying "he's a level 9 fighter"? Legends & Labyrinths makes that a reality for your 3rd Edition gaming, stripping NPC creation back to the classic trio: Roll ability scores, pick race and class, select equipment.
5. TRAINING RULES
On-the-job training is great, but sometimes you just want a nice little training montage that ends with your character dancing on the stairs in front of the Cosmopolitan Museum for Magical Curiosities with their arms flung high in the air. You can do that with Legends & Labyrinths.
6. THE STUNT SYSTEM
Legends & Labyrinths simplifies the 3rd Edition combat system down to a lean, mean, fighting machine… And then makes it more dynamic than ever with a super-simple, super-flexible stunt system. Shove your enemies around, help your friends, and just generally do awesome stuff on the field of battle.
7. HAZARDS AND TRAPS
3rd Edition may have traps, but it doesn't have Legends & Labyrinths' slick hazard and trap creation system. This thing is so streamlined that you can create new hazards on the fly. The players want to drop a chandelier on your doppelganger? Your ogre wants to chop through the balcony's supports and make it collapse? Bam. Legends & Labyrinths has you covered.
8. MONSTER CREATION RULES
Are you tired of turgidly building monster stat blocks instead of whipping them up? Creating slavering monstrosities doesn't have to be an exercise in advanced calculus. The monster creation system in Legends & Labyrinths is going to cure all your woes. Combined with the encounter budgets and hazard creation system, creating complex, dynamic, and flexible encounters has never been this easy.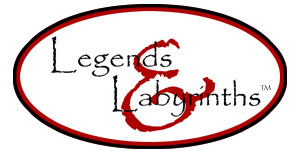 CLIMB INTO YOUR LABYRINTH AND FORGE YOUR LEGEND TODAY!