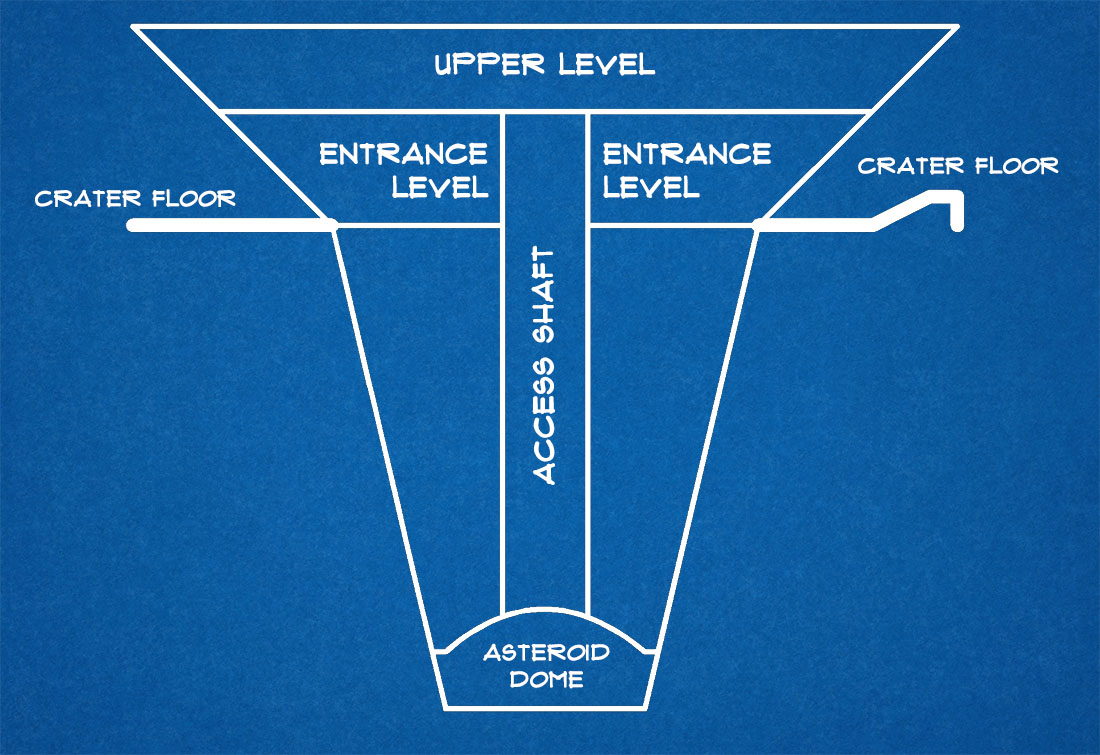 Roof: 50 meters wide. Upper level: 40 meters wide. Lower Level: 30 meters wide.
Shaft: 6 meters wide. 40 meters high.
Asteroid Dome: 12 meters wide. 6 meters high
SURVEILLANCE
Every room has standard audio/visual feeds sent to Security HQ.
AREA 1 – PREPARATORY LAB

This lab contains equipment for preparing and decontaminating samples before they're sent over to the labs in the Research Hab.
PERMEABLE NANOBARRIER: A large hole in the floor leads to the Shaft below. The hole is sealed with a gel-like substance – a permeable nano-barrier which can be easily passed through, but which will effectively decontaminate anything passing through it.
Unprotected flesh would literally be flayed away by disassemblers if it passes through the nanobarrier.
AREA 2 – SECURITY DOOR

STAIRWAY: Of a white, gleaming plastic. It can collapse down and become a lift pallet.
DOOR TO AREA 1: This door features biometric identification and can only be opened by the Security AI (or other personnel in the Security HQ).
AREA 3 – OBSERVATION ROOM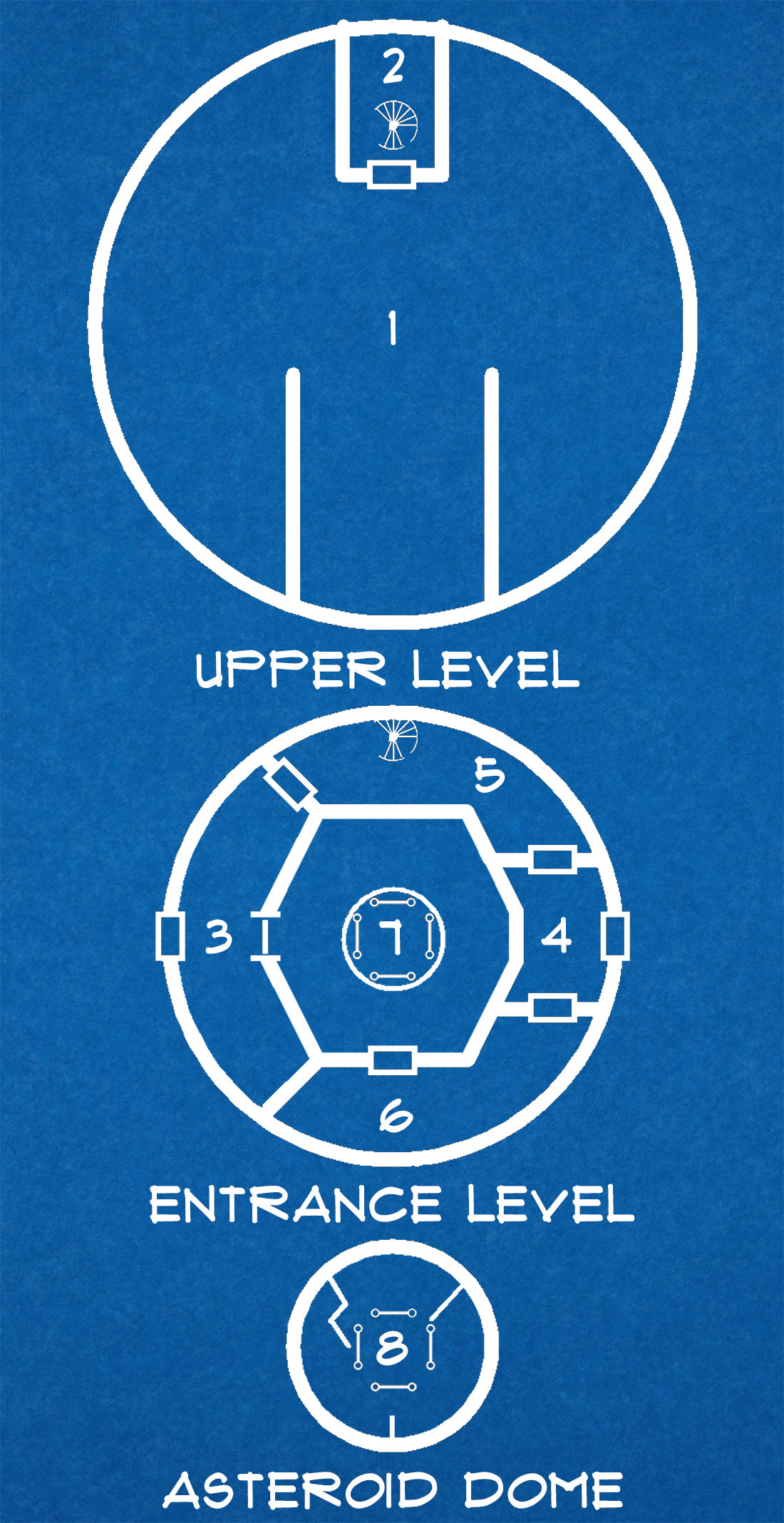 A window of transparent polymer looks into the shaft chamber.
AREA 4 – DECONTAMINATION CHAMBER

The full decontamination process takes 2 minutes.
STEP 1: NANODETECTORS: In the ceiling, suck air out of the chamber for analysis.
STEP 2: DECONTAMINATION MIST: To unprotected biomorphs, this acts a toxin that causes eye irritation and difficulty breathing. 1d10 damage, -30 modifier to sight-based Perception tests, and a -20 modifier to all other actions.
STEP 3: NANOSWARM – MICROBIAL CLEANERS: Released into the room.
AREA 5 – HALLWAY / HAZMAT SUITS

Sharp angling of the exterior wall.
HAZMAT SUITS: 12 hazmat suits hang in individual sterilizing chambers.
STAIRWAY: Of a white, gleaming plastic. It can collapse down and become a lift pallet.
AREA 6 – HALLWAY / RESEARCH DRONE STORAGE

Sharp angling of the exterior wall.
RESEARCH AI FORK: The Research AI Fork is running off a server in this room.
DRONES
HAB REPAIR ROBOTS (x2)
ROBOMULE
---

HAB REPAIR ROBOT: Crab-like frame. Panopticon, pg. 157.

Walker 4/20 (max 20 kph), Armor 4/4, DUR 40, WT 8

Access Jacks, Chem Sniffer, Electrical Sense, Enhanced Vision, Extra Limbs (6), Grip Pads (+30 Climbing), Headlights, Maker, Nanoscopic Vision, Repair Spray, Tool Kit, Utilitool

AI: Hardware: Industrial 40, Hardware: Robotics 40, Perception 30.

---

ROBOMULE: Human-sized, but horizontal and with six legs. Legs can also transform into flippers for swimming (deploy reusable flotation bladders). Carry 250kg of cargo over long distances.  Upper surface made of smart materials that transform into straps, etc. Gatecrashing, pg. 162.

Walker 4/20 (max 35 kph), Armor 4/4, DUR 40, WT 8

Access Jacks, Extra Limbs (6), Headlights, Maker

---
AREA 7 – ACCESS SHAFT

SENSORS: Monitored by the Sensor AI; 40% chance that the feed is also being monitored by a human.
HYPERSPECTRAL: +20 Perception modifier (Panopticon, pg. 162)
INFRARED: With active infrared lighting (+10 Perception modifier).
INFRASOUND: Capable of detect footprints within 20 feet (+30 Perception modifier).
PRESSURE SENSORS
QUANTUM RADAR (Active)
RADIATION SENSE
T-RAY/X-RAY/GAMMA RAY (Active)
ULTRAVIOLET
SPECIAL VISION: Nanoscopic Vision, Polarization Vision
MOVING LADDERS: Four moving ladders spaced around the walls of the shaft. Grabbing onto the runs will cause the ladder to begin moving. (Two ladders go down; the other two go up.) The ladder can also be climbed normally.
AREA 8 – ASTEROID DOME

SENSORS: As per Area 7, but with 80% chance that feed is being monitored by a human.
CHEM SNIFFER
GHOST IMAGER (Panopticon, pg. 152)
FLOOR: The floor of the crater itself. A wide pit has been excavated (using scourer nanoswarms), revealing the asteroid which thrusts up out of the ground.
ASTEROID: A multi-faceted prism of silver crystals filling a latticework of silver-black. The lattice is constantly sheened with Silver Basilisk oil.
FRACTAL ARMS (x3): Fractal, mechanical arms extend from the walls. These can divide down to micrometer scale; have enhanced chemical sensor suites; and can release scourer nanoswarms.
SCOURERS: Analyze the dirt, regolith, ice, etc. in a region and then remove it, layer by layer. Anything not matching that pattern is location tagged and the swarm uses ultrasound to clear the item and clean it. (Gatecrashing, pg. 160)
MANIPULATOR CUFFS (x3): Stored in silver tubes attached to the dome wall.
---

MANIPULATOR CUFFS: Attached as a forearm cuff to the outside of a vacsuit. Utilitool and mobile lab. Controlled through arm movements and mesh signals. Protrudes 2-meter long telescoping manipulator. Can bend, flex, and squeeze through openings only 2mm wide. Can also detach and move under its own power (using flexible treads). Feels like an extension of the user's hand. (Gatecrashing, pg. 160)

Tracked 2/8 (max 8 kph), DUR 5, WT 1

Access Jacks, Electrical Sense, Enhanced Vision, Fractal Digits, Grip Pads (+30 Climbing), Mobile Lab, Nanoscopic Vision, Shape Adjusting, Telescoping Limb, Utilitool

---