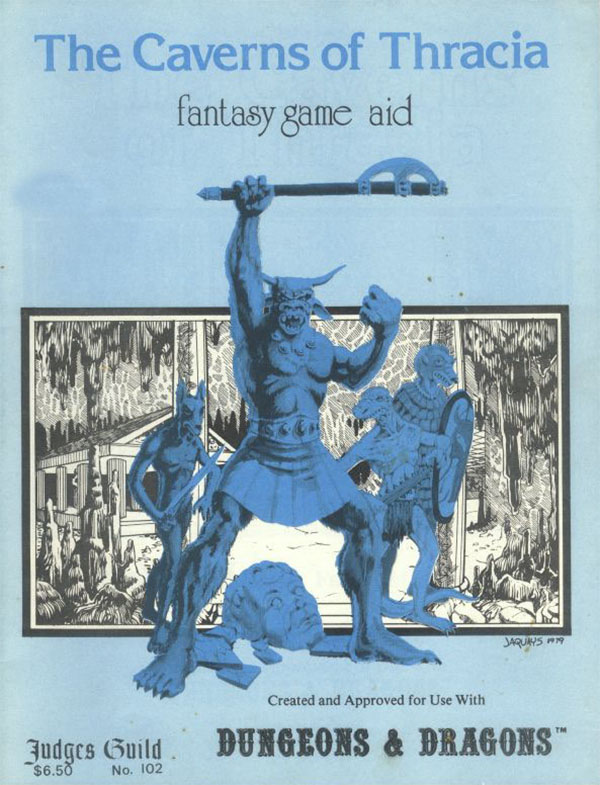 Ash McAllan sent me a tweet: "Hey @hexcrawl I keep referring people to [Jaquaying the Dungeon]… but noticed you're using Jaquays' deadname? Needs updating."
(For those unaware, the author of The Caverns of Thracia transitioned in, if I recall correctly, 2012.)
This is something I've actually given quite a bit of thought to, both generally and in the specific instance of Jaquaying the Dungeon. And my philosophy is that name changes generally progress forward through time.
First: If Jennell had been Jennell when I wrote the essay, I'd have used Jennell. But what I wrote is what I wrote when I wrote it. Similarly, I don't think we need to edit this video and dub in Caitlyn Jenner's name.
I don't think it's either practical or necessary for us to revise extant works in order to match people's changing identities. For example, what if I was dead? Who'd have the authority to decide what needed to be rewritten in my work? And what if I'd written a poem and rhymed a word with the name "Paul"? You can't just search-and-replace names and necessarily arrive at something true.
Second: For similar reasons, I think it's accurate to say that Cassius Clay won the Clay-Liston fight. (Because that was his name when it happened.) I also think it can be accurate to write that Muhammad Ali won that fight. It would not, however, be accurate to say that Cassius Clay won the Rumble in the Jungle (because that is not a thing which ever happened).
So, in the future, I may refer to "The Caverns of Thracia by Paul Jaquays". Because that was her name when she wrote it.
There are archival issues here (i.e., you can't reasonably track down every extant copy of The Caverns of Thracia and scratch out the author's name on them; and even if you could, there would be some really significant ethical issues with rewriting cultural history like that). There are also issues of historical accuracy (which can be demonstrated with sentences like "Muhammad Ali then changed his name to Muhammad Ali" — which makes no sense if you've succeeded in your hypothetical mission to strike all references to the name Cassius Clay from the historical record).
Important proviso here: All of the above is discussing public figures and publicly known events. Very different standards apply to non-public events and private individuals, many of whom may be living stealth. Even if we ignore the ethical right for someone to control their own identity and privacy (although I can't honestly think of any reason why we would want to do that), there are very real dangers in outing someone. Arguing that someone should say "that was back when HE graduated from college" because that happened before Jane transitioned is to inherently say that Jane should be outed any time events from her life before transitioning are mentioned.
(Some of you may be thinking that there shouldn't be a distinction here. Consider a hypothetical scenario where Jennell was living stealth. Therefore, I should refer to past events in her life using only her current name and pronoun, right? Except if I say, "Jennell wrote The Caverns of Thracia." that combines poorly with the public knowledge that the name "Paul" appears on all those extant copies of the book. I would have just functionally outed Jennell. Private and public information work in fundamentally different ways, and trying to treat them in the same way doesn't work.)
In my ideal world, the changing of identity for a transexual or transgender person would be no more notable than any other change in name and identity. And we'd be able to treat them all openly and without any significant comment because, honestly, it's just not that big a deal. Unfortunately, that's just not the world we live in. In this world it is a big deal — it can literally be a life or death deal. And that needs to be respected.