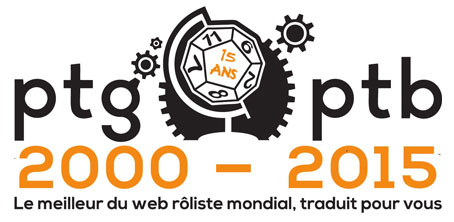 Places to Go, People to Be has translated two more of my essays into French. This time it's Don't Prep Plots and Don't Prep Plots: The Principles of RPG Villainy.
Interesting factoid about Don't Prep Plots: It includes the summary of a plotted adventure. After presenting that brief summary, I included this note:
(This is derived from an actual, published adventure. Names and milieu have been changed to protect the innocent. Bonus points to anyone who can correctly identify the original source.)
I actually expected that someone would quickly twig to the identity of the published adventure I was talking about and identify it. But no one ever has.
Don't Prep Plots: The Principles of RPG Villainy, on the other hand, was the first Patreon-sponsored post here on the Alexandrian. As always, my appreciation goes out to all of the amazing Patrons of the Alexandrian, without whom this site would be a more barren place and PTGPTB would have fewer things to translate.
Previous translations from PTGPTB include Three Clue Rule and Node-Based Scenario Design.