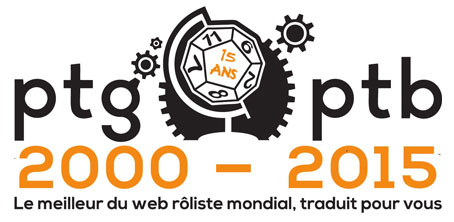 You may remember that Places to Go, People to Be translated the Three Clue Rule into French last year. Now they've begun translating Node-Based Scenario Design as Création de scénario en noeuds.
Unlike the Three Clue Rule, I have nothing particularly clever to say about this translation. So here's a semi-interesting factoid about Node-Based Scenario Design: After finishing the original set of essays, I somehow managed to lose the Photoshop file I'd used to create the various multi-colored node diagrams. (This is uncharacteristic for me: I actually have an entire directory dedicated to housing the original work files for the graphics here on the Alexandrian. The directory dates back to when the site launched in 2005 and exists for explicitly this purpose. I still have no idea how I managed to lose the PSD file.) As a result, whenever I've done a follow-up on the original series which requires a similar node diagram I have crudely patched it together by copying and pasting the original JPGs.
I keep telling myself that some day I should rebuild the original file. But I also keep telling myself that some day I'll learn how to use Adobe Illustrator properly so that I stop abusing Photoshop by using it for anything even vaguely graphical.