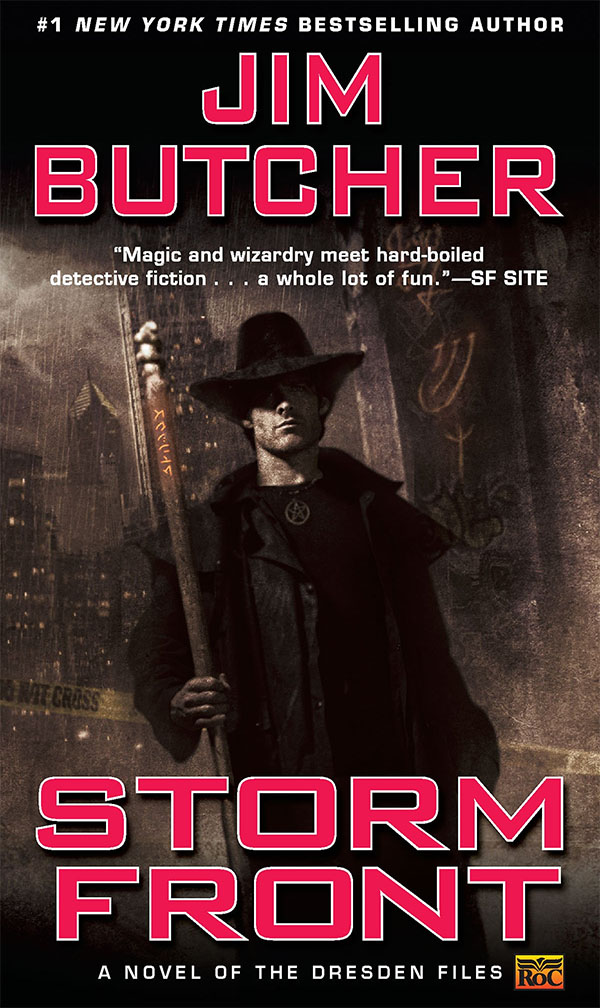 The Dresden Files series by Jim Butcher primarily consists of fifteen novels, but Butcher has also written a dozen or so short stories and novellas (which, while generally not essential, often have events which reflect back into the novels). Butcher's website has a list of where the various short stories fall into the Dresden Files continuity, but unfortunately every entry on the list includes a spoiler description of the story. While reading the series, my efforts to find an alternative list duplicating the chronological order failed. So now that I've finished the series, I'm putting together a spoiler-free version of the list in the hope that it will prove useful to others.
There are currently two short story collections: Side Jobs and Working with Bigfoot. Butcher plans to collect the rest of the stories (along with some not yet written) in a collection tentatively called Brief Cases, but since that doesn't exist yet I'm including references below to where the stories can be found.
INTERNAL CHRONOLOGICAL ORDER
"Restoration of Faith" (Side Jobs)
1. STORM FRONT
2. FOOL MOON
"B is for Bigfoot" (Working for Bigfoot)
3. GRAVE PERIL
4. SUMMER KNIGHT
5. DEATH MASKS
"Vignette" (Side Jobs)
6. BLOOD RITES
7. DEAD BEAT
"I Was a Teenage Bigfoot" (Working for Bigfoot)

"Something Borrowed" (Side Jobs)
8. PROVEN GUILTY
"AAAA Wizardry" (Dresden Files RPG)
9. WHITE NIGHT
"It's My Birthday Too" (Side Jobs)

"Heorot" (Side Jobs)
10. SMALL FAVOR
11. TURN COAT
"Love Hurts" (Side Jobs)

"Even Hand" (Dark and Stormy Knights, ed. Pat Elrod / Beyond the Pale, ed. Henry Herz)

"Bigfoot on Campus" (Working for Bigfoot)
12. CHANGES
"Aftermath" (Side Jobs)
13. GHOST STORY
"Bombshells" (Dangerous Women, ed. George R.R. Martin and Gardner Dozois)
14. COLD DAYS
"Cold Case" (Shadowed Souls, ed. Jim Butcher and Kerrie Hughes)
15. SKIN GAME
RECOMMENDED READING ORDER

My recommended reading order for the series is basically identical to the internal chronological order, except for "Restoration of Faith". I think that story functions best as a proper prequel, and I would hold off on reading it until some point after Grave Peril.
If you're less interested in the short stories, the novels largely stand on their own. However, there are five stories which are prominently referenced and which I recommend seeking out if you're looking for an "Essentials" reading list:
"Something Borrowed"
"Heorot"
"Backup"
"Aftermath"
"Bombshells"
Also: The first three books in the series are pretty good pulp fiction. They're entertaining, but they're not really anything special. If you start reading them and you're thoroughly "meh" on the whole thing, skip ahead to Summer Knight and read from there. (That's where Butcher starts kicking the whole series into a different gear and it just keeps getting better.)
But I don't recommend doing that, because the first three books do lay a lot of pipe that will enhance your enjoyment of the later stuff.