Tagline: In 32 slim pages Three Days to Kill manages to not only present a really gut-wrenching, fast-paced, creative adventure, but also conjures into existence a highly entertaining, evocative, and believable slice of a fantasy world.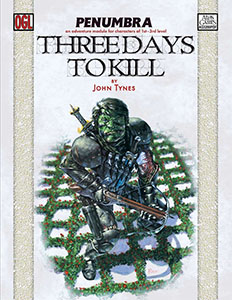 I've spent the better part of the past two weeks reading really bad fantasy modules. It is difficult to describe to you the truly excruciating pain of this experience. Instead, I shall endeavor to demonstrate by way of example:
"The characters are in Boringtown. There is a bar, a temple, and an armory."
"The characters are in Moronsburg. There is a bar, a temple, and a general store."
"The characters are in Clicheville. There is a bar, a temple, and a blacksmith. The mayor approaches them…."
"At the bottom of the farmer's well there is a secret door which has not been opened in centuries. On the other side of the door is a labyrinth containing giant spiders and goblins. Kill them."
"The abandoned mansion on the top of the hill has become home to a bunch of necromancers and a couple of ghosts. Kill them."
"The PCs wander around the desert enjoying random encounters until they stumble across a lost pyramid. There they watch two mummies fight over conflicts which existed thousands of years ago (and about which the PCs know nothing). When the fight is over (make sure that the PCs don't take part in any way) the PCs get to go home."
Oy.
Between painfully artificial settings, a mind-numbing lack of originality, and stunningly awful "plots", these so-called "adventures" have earned their designers an eternity upon the racks of the Nine Circles of Hell.
(On the plus side, I think actually playing through these scenarios counts as a form of penance. The equivalent of saying fifty Hail Mary's or something of that nature.)
(The funny thing is that you think I'm kidding. Outside of those satiric town names, though, I'm not – these things actually exist. They're out there and they're waiting for you. Be afraid. Be very afraid.)
There were days when I felt like giving in to a nascent Oedipal Complex… and by that I mean stabbing my eyes out with pins to take the sight of these monstrosities away from me.
But through the good graces of providence, a copy of John Tynes' excellent Three Days to Kill fell into my hands, and thus I was saved from a truly horrific fate.
PRODUCTION NOTES

Before we begin:
John Tynes is a roleplaying designer and writer of immense talents: He was one of the founders of Pagan Publishing. He was a co-author of Delta Green. With Greg Stolze he designed the award winning Unknown Armies for Atlas Games. Last year Hogshead Publishing's New Style line published his amazingly evocative Puppetland and the startlingly innovative Power Kill.
With Three Days to Kill Tynes has taken advantage of WotC's D20 Trademark License and Open Gaming License (see the Open Gaming Foundation for more details on both of these programs) to produce a module for the 3rd Edition of Dungeons & Dragons. This is the lead-off product in Atlas Games' new Penumbra line of products. Over the next few months you can expect to see more support material for D&D3 released through this imprint.
Three Days to Kill is designed for a party of 1st to 3rd level PCs.
And now on with the show:
THE SETTING
Warning: This review will contain spoilers for Three Days to Kill. Players who may end up playing in this module are encouraged to stop reading now. Proceed at your own risk.
Three Days to Kill is set in the Deeps, a valley nestled within a mountain range. At the heart of this valley, located on the shores of Shadow Lake, is Deeptown.
And as quickly as that we have come to the first major strength of Three Days to Kill: Deeptown is a generic fantasy city. It has been specifically designed to slip seamlessly into any DM's campaign world.
The minute you attempt something like this you've placed yourself in dangerous territory: If you make the town too specific, then its usefulness as a generic setting is lost. If you make the town too generic, however, you end up with the triteness of "there is a bar, a temple, and a blacksmith".
Tynes, however, deftly avoids these pitfalls. On the one hand Deeptown is imminently generic – any DM with a mountain range can slap the town into place. On the other hand, Deeptown is also developed very specifically – it exists for a purpose, the people living there have their own character and culture, and the whole place has a dynamic quality which makes it not only a potential setting for Three Days to Kill, but many other adventures. Despite the fact that Deeptown can be placed almost anywhere in the DM's campaign world, it has been craftily designed so that – no matter what world you place it in – it will seem as if always belonged there.
So what is Deeptown? Deeptown is a small city located on the shores of Shadow Lake, a way-point on the east-west trade routes that pass through the Deeps. The mountainous terrain of this trade route makes it easy for bandits to prey on caravans, and, in fact, any number of bandit gangs roam the hills. This helps make Deeptown particularly attractive for young adventures and other assorted muscle looking for jobs as guards (or opportunities as thieves, as the case may be).
There are six bandit lords in the area (although, as Tynes points out, "calling them 'lords' gives them too much credit, really — they're just competent thugs"). The two largest groups are controlled by the bandits Modus and Lucien.
Deeptown itself is technically ruled over by the Town Council, but in truth it is the Trade Circle – the local guild of commerce – which rules the city from behind the scenes. In other words, even the law in Deeptown is governed by the corruption of the all-mighty dollar.
This leaves only one major power group left to consider: Religion. In Deeptown the two most significant religious groups are the Holy Order (dedicated to the preservation of life) and the Sect of Sixty (a group of diabolists). (Both of these groups – while having their structure and general role in Deeptown life laid out in the module – are left purposely vague in all the right places to that you can plug in whatever gods you like. For example, the Holy Order might worship Athena and the Sect of Sixty Hades. On the other hand, the Holy Order might revere Adaire, Goddess of Light and Purity; while the Sect of Sixty might practice foul sacrifices to Cthulhu. It's all up to you.)
Basically the setting information in Three Days to Kill can be summed up like this: A solid, interesting foundation. For a 32 page module a surprising amount of detail is included, giving the setting a life and reality of its own through the expert application of a handful of deft brush strokes – all the while maintaining an openness and flexibility which will make its use simplicity itself.
THE PLOT
Modus and Lucien, the two premiere Bandit Lords, have long hoped to turn "legitimate" (within a broad enough definition of that word). They hope to use their strength in order to convince the Trade Circle to ally with them – essentially moving into the protection rackets (expensive Trade Circle permits would be sold, and caravans which purchased them would be spared from the attention of Modus and Lucien). In the interest of seeing this day come to pass, Modus and Lucien agreed to a pact – stating that neither would enter into a deal with the Trade Circle without the other.
Lucien, however, is no longer willing to wait. He has made a secret alliance with the Sect of Sixty. Lucien wants to use the Sect to use their supernatural powers to help him crush Modus, while the Sect wants to use Lucien to help them gain a foothold over the taxation of trade routes (when his day of power comes).
Modus, although hazy on the exact details of the alliance Lucien is planning, knows that his would-be ally is up to something. Of course, he'd prefer it if Lucien was not allowed to be up to anything…
…and that's where the PCs come in.
One way or another the PCs are attending the Festival of Plenty (a night of debauchery and infamy which is thrown annually in Deeptown by the Sect of Sixty). Several ways of getting them to Deeptown and into the Festival are given, as are a number of ways of having them prove their worth during the course of the festival. One way or another, however, they come to the attention of Modus' men – at which point they are approached for The Job.
The Job is this: Modus knows that Lucien is meeting with his mysterious allies at a villa north of Deeptown known as Trail's End. He wants the PCs to crash the party, screw up the meeting, and make Lucien look foolish and unreliable to his would-be supporters. The PCs, of course, will be well paid for their troubles.
So the PCs head north. On the way to Trail's End they discover signs of orc activity in the region (which is connected to a coming of age rite), but it isn't until they reach Trail's End that the adventure really kicks into overdrive: You see, the villa is packed full of Sect cultists and bandits.
And if the PCs rush the front door of the villa, they're going to be annihilated.
Three Days to Kill is, in fact, a rather ingenious scenario for bringing the gameplay of computer games like Tenchu and Thief: The Dark Project — which emphasize stealth and cunning over brute strength – into the traditional roleplaying realm of D&D. (Tynes actually uses the analogy Tom Clancy's Rainbow Six – but that requires a larger genre shift in my opinion.) The PCs are given weapons, magical items, and a situation which allows them to scout their enemy, plan a strategy, and then carry out a covert operation.
Done right this can be a lot of fun. Done wrong this is going to be nothing more than a hackfest. Either way you should get a good dose of fun before it's all said and done. Basically its going to play out something like this:
The PCs are going to take out the bandits and the Sect henchman. As they do so, the Sect acolytes are going to fall back to a secluded room inside the villa. In this room is the Bone Mirror – a mystic artifact of great evil which allows them to start gating low-level minions of Hell into the villa.
As the minions of Hell swarm over the villa – and the PCs fight valiantly to reach and shut off the source of the Hellspawn – the remaining bandits will flee… as they do so the orcs (remember them form the trek north?) will come over the top of the hill and charge the villa as well.
Hellspawn on one side. Orcs on the other. Bandits and PCs trapped in the middle. What's a hero to do?
Smash the Bone Mirror and fight for their lives, of course!
But we're not done yet!
When the shattered pieces of the Bone Mirror come to rest they begin to bleed. "The blood wells up from the mirror and oozes out of the bones." At first it merely trickles, but "then the blood comes faster, coating the floor around the shards, and begins to expand rapidly. Tendrils shoot out across the floor and begin running up the walls. As the blood spreads, it transforms the surfaces of the room. The floor bulges, and bones, flesh, and faces to begin to form. The effect spreads rapidly, accompanied by the screams of the damned." As the process begins to effect the acolytes and orcs who still remain alive, these poor creatures begin to cry out: "He Who Walks is coming! The coming is at hand!"
The shards of the Bone Mirror transform the Trail's End villa into the Bone Church – an outpost of Hell; a "pulsing, living, screaming conglomeration of bodies". The PCs and the remnants of their opponents are forced to flee before the birth of this diabolic power.
And thus Three Days to Kill comes to an end: The PCs have, indeed, succeeded at their primary mission (breaking up the alliance between Lucien and the Sect of Sixty) – at least for now – but only by unleashing the seeds of future adventure: The mystery and threat of the Bone Church, the future of the Bandit Lords of the Deeps, the PCs relationship with Lucien and Modus, the evolving politics of Deeptown. Whether you decide to carry these seeds through to new adventures, or merely choose to have the PCs join the next caravan out of the Deeps, is entirely up to you. Three Days to Kill works equally well as a stand-alone adventure or as the germination point of an entire campaign.
CONCLUSION
Three Days to Kill is one of the best damn modules I've ever plunked down my cold, hard cash for. It's one of those great gaming products that makes you instantly eager to call up your gaming group, roll up some characters, and get down to some serious roleplaying.
In 32 slim pages it manages to not only present a really gut-wrenching, fast-paced, creative adventure, but also conjures into existence a highly entertaining, evocative, and believable slice of a fantasy world.
Three Days to Kill is an exciting product.
And recommendations don't come much higher than that.
Style: 4
Substance: 5
Author: John Tynes
Company/Publisher: Atlas Games (Penumbra)
Cost: $8.95
Page Count: 32
ISBN: 0-887801-94-4
Originally Posted: 2000/10/29
This represents a major turning point in my life. At this point, as I'd indicated in my review of Tomb of Horrors, I hadn't played D&D in nearly a decade. 3rd Edition had perked my interest, but I wasn't really planning to do much of anything with it. Until I picked up Three Days to Kill at GenCon. And, as I said in the review, Three Days to Kill was exciting. It was one of those products that just kind of screams, "Play me!"
So I ended up taking over as GM for what was my regular gaming group at the time. And from that point forward, 3rd Edition would dominate my reviews, my personal gaming, and my freelance writing.
Three Days to Kill generated a lot of buzz when it first came out because it was one of two third party modules available at GenCon when the Player's Handbook launched. These days it seems to have become something of an unsung classic, though, with fewer people being aware of its existence. I heartily recommend snagging a copy for yourself and running it ASAP.
For an explanation of where these reviews came from and why you can no longer find them at RPGNet, click here.