The second milestone goal from my Patreon has been completed: No More Ads!
Although the affiliate links and the links to my own books in the left sidebar remain, all of the garish Amazon and Google banner ads have been banished. I've coupled this with a utility-and-aesthetic upgrade to the right sidebar, which will hopefully make it easier for you to find all the cool stuff that's tucked into the corners of the Alexandrian.
This also completes my first full month with Patreon. The day is young, but it's proven to be a fabulous experience: I was finally able to prioritize finishing Thinking About Urbancrawls, which I feel has been a fabulous success. I'm also well on my way to lining up a full slate of posts for February (which patrons with early access have already begun to receive). Tomorrow night I'll be hosting a Google Hangout with the Hangout Club, which (truth be told) I'm a little nervous about.
With some Patreon experience under my belt, though, I'm also a little more cognizant of exactly how things balance out on the back end. That means our next milestone goal — So You Want to Be a Dungeon Master? — is now scheduled for $60. We're just $12.50 away from that and I'm very excited by the fact that we could every easily achieve that goal by the end of February.
Thank you to all of my patrons, who are helping to make these amazing things possible for all of us.
$0.10? $0.25? $1.00?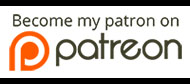 … even the smallest of pledges can add up to wondrous things.