Having not actually run a true urbancrawl for any length of time, I'm not really in a position to delve into truly advanced uses of the technique. But I do want to float out a few random thoughts I've had. This is stuff that I think will prove to be fertile soil for exploring in the future. (And if you have a chance to play around with these ideas in your own campaign, I'd love to hear your feedback on how it went in actual play.)
THE DIMENSIONS OF THE URBANCRAWL

First, I want to be very specific about what I think makes this model of the urbancrawl work by expanding on the metaphor of "dimension" in your urbancrawl that I've touched on before:
0th Dimension: This is the gazetteer. Recognizing that the gazetteer is a separate entity allows us to focus on the 'crawl itself. You don't have to explore the gazetteer; its contents provide context and backdrop and common goals for targeted movement.
1st Dimension: This is the basic "investigation" action. You could key an entire city with content and just allow basic investigation and it would work, but it would also be very bland.
2nd Dimension: By creating different urbancrawl layers, you allow the players to contextualize their investigations. This makes the city "come alive" for the players and rapidly creates a sense of the bustling metropolis; of a place where there's always something happening just out of sight. (I suspect this will become even more true as the city grows during play and the various layers begin interacting with each other.)
3rd Dimension: Finally, adding depth to each urbancrawl layer and allowing PC activity to expose the hidden layers rewards player exploration. It can also be used to escalate the stakes and to increase the PCs' investment in the setting. (In many ways it parallels the function that deeper levels of the megadungeon serve.)
URBANCRAWLS IN YOUR HEXCRAWL

The more time I spend playing around with this urbancrawl structure, the more excited I get about its potential. For example, you can use first dimensional urbancrawls to cleanly integrate villages, towns, and the like into your hexcrawls.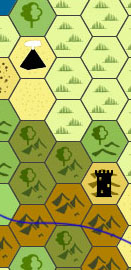 For most of these settlements, you can probably treat the whole town as a single district: When the PCs encounter a small village or town in the hexcrawl, the expected interaction is to look around and figure out what useful information it's supposed to give you (i.e., rumors about potential adventures to be found in the wilderness). Alternatively, maybe investigating the village will end up triggering a local adventure (i.e., the whole town has been replaced by dopplegangers). In either case, the urbancrawl investigation action provides a default method for interacting with settlements of all sizes, even if it's only when the really big, important cities range into view – Greyhawk, City-State of the Invincible Overlord, Minas Tirith – that exploring the city neighborhood-by-neighborhood and street-by-street becomes an interesting adventure in its own right.
To use a potentially ill-conceived dungeon metaphor: Most towns are like caves; they've got just one or two key entries. The big cities are full-scale labyrinths and can be chewed on for months or years.
MIXING URBANCRAWL SCALES

Most of the time you'll probably want all of your urbancrawl layers keyed to the same map. But if the PCs become interested in the Dockside gangs, maybe you break up the Docks into specific sub-districts.
Similarly, maybe the vampires are only active in Oldtown. Or maybe there's a gang war in the Guildsman District that you want to track street-by-street as territory gets swapped back and forth.
CROSSOVER NODES

Another assumption is that each node will only belong to a single urbancrawl layer, but it would actually be quite trivial to key the same node to multiple layers. These nodes would make the city feel more interconnected, but more importantly they would also serve as a mechanism by which the investigation of one layer can crossover into another.
For example, maybe the PCs have been rigorously pursuing the Halfling Mafia. If they end up raiding the blood laundering service the mafia runs for Count Ormu, however, that will tip them off about the local blood dens and possibly get them investigating the vampires, too.
URBANCRAWL TRANSMISSIONS


Technoir transmissions, as previously discussed, combine random content generators (for connections, events, factions, locations, objects, and threats) with explicit mechanics that generate a conspiracy as a direct result of the PCs hitting up their contacts in an effort to unravel the mystery.
It's incredibly clever and extremely effective. And for dedicated groups, I think you can use the transmission system to add a fourth dimension to your urbancrawls: Tie the random content generators to your urbancrawl layers, seed the city with contacts for the PCs, and then let the system generate plot maps that bring the city to dramatic life.
I don't have space here to fully explore this idea right now, but here's a few preliminary thoughts:
Connections, locations, events, and threats all probably double as items keyed to the urbancrawl layers.
Many or all of the factions probably have their own layer on the urbancrawl.
Objects are the one thing you'd have to create explicitly for the transmission dimension. (Fortunately, they're also the easiest thing to create.)
For more complexity (or for groups who are new to the big city), add a mechanic that allows them to explore the city in order to make contacts. (Creating a dedicated contact layer in your urbancrawl or incorporating them into other layers seems like an easy solution.)
Finally, I'd be interested in adding mechanics to the transmission system so that performing generic or specific investigation actions would have effects on the plot map in the same way that hitting up contacts do.
SECONDARY INVESTIGATION ACTION

Another trick that Hite incorporates into Night's Black Agents is adversary mapping: As characters explore the Conspyramid, they can map the relationships of the nodes on the pyramid. They can also use the Human Terrain and Traffic Analysis skills to peek at the generic structure of the map around the nodes they've discovered. (For example, "Someone has to be running the money to these guys.") Additional investigation can then nail these structures down. Night's Black Agents rewards the players for identifying sections of the adversary map by rewarding a dedicated pool of points for actions targeting that section.
In terms of our urbancrawl structure, we can imagine a secondary investigation action that the PCs can take to follow-up on the leads they gain from identifying, exploiting, exposing, or eradicating a node on an urbancrawl layer. For example, if they take out a blood den in Oldtown they could follow up with a secondary investigation action that might tell them where they can pursue their investigation:
– Asking around about the blood den you just rooted out, you hear that a lot of people wearing the livery of House Ormu were seen coming and going at odd hours of the night from that warehouse.
– Somebody must have been supplying those shivvel dealers with their product. And somebody must have been paying off the local cops not to look too close.
Basically, the idea here is that, when they perform the secondary investigation action, you would look at other keyed content on that urbancrawl layer and point them towards it. (Structurally you're saying, "You should go perform an investigation action in district X." But you're contextualizing that into the game world.) Just like Hite, you could also incentivize this action by offering rewards for following up on leads. (A +2 circumstance bonus, for example, would work in D&D.) And I suspect that there may be richer ways of building on these secondary investigation actions.
RESTOCKING THE URBANCRAWL

When you clear out a dungeoncrawl, the dungeon is empty. You clear out a city and… what does that mean?
To a large extent, the layered approach to stocking your urbancrawl solves this problem. If the PCs wipe out Count Ormu's vampires and clear that entire layer, there are still other layers of the city to explore. (And, of course, you can always add new layers to the city over time.)
One thing I am interested in is what actually restocking a layer (or a city) will look like in a campaign over time. For dungeons, this is a process I talk about in (Re)-Running the Megadungeon: "You keep the dungeon alive by using wandering monster encounters to simulate the activity of the complex. You partially repopulate the dungeon between sessions to keep it fresh. The result is that you can take 10 encounter areas, a couple of tables, and get dozens of hours of play out of it."
I expect that a lot of those skills and techniques will transfer from the dungeon to the city. But I also anticipate that urbancrawls are going to evolve in their own unique and fascinating ways.
So that's the next step of this journey: To bring the first urbancrawls to the table. To let them begin to grow and live. To unleash the unbridled creativity of the gaming table upon them.
I'm excited.