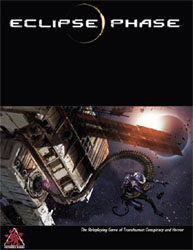 A quick review for those unfamiliar with the Eclipse Phase system: It's a percentile system where you need to roll equal to or under your skill level in order to succeed. If your roll a success, your margin of success is equal to the number you rolled on the dice. If you roll a failure, your margin of failure is equal to the number you rolled minus your skill level.
(So if your Fray skill is 45 and you roll 27, your margin of success is 27. If you roll 89, your margin of failure is 89 – 45 = 44.)
Playing Eclipse Phase at Gencon this year, I noticed once again the difficulty some people have grokking this method of "calculating" margin of success. Part of the problem is that it's discordant with how venerable percentile systems like Call of Cthulhu calculate margin of success (by subtracting the number you rolled from your skill rating). And part of the problem is that Eclipse Phase actually swapped methods between subtracting numbers and reading the die roll between printings. (The post-Catalyst Labs versions of the game should really have been clearly labeled a Revised Edition, frankly.)
But laying all of that aside, the huge advantage of the "read the die" method of calculating margin of success is that it completely eliminates calculation at the table when calculating margin of success: All you have to do is look at the dice. When you can get everyone to grok that (and to report their rolls as "XX out of YY" instead of just "succcess") it makes the game run with incredible smoothness. (Margins of failure still require calculation, but the system doesn't use them nearly as often.)
Having concluded that there's a huge upside to calculating margin of success like this, without further ado I present several different conceptual frameworks that can help you (or someone else) grok the concept:
Success starts at 00 and grows from there, so the higher you roll the better your success (assuming that you succeed).

It's like blackjack: You want to get as close to your target number as possible without going over.
It's like The Price is Right: The dice are naming a price and you want that price to be as close to the actual price (i.e., your skill rating) as possible.

Your skill rating is like a gravity well: Successes start far away at 00, but the closer they get to your gravity well the faster they go and the bigger the explosion when you punch that guy in the face.
(For some reason face punching always features heavily whenever I'm teaching a new system to people.)
UNTESTED: MARGIN OF FAILURE
Okay, now that you've grokked how Eclipse Phase does margins of succcess, let me strain your credibility by proposing a similar method for handling margin of failure in the system. (This is really just a random thought that occurred to me as I was writing out the above.)
The key point here is that the system (a) rarely cares about margin of failure and (b) when it does, it only cares if you missed by either 30 points or 60 points. (The former are referred to as "severe failures" and in my system cheat sheet I refer to the latter as "horrific failures", although I don't believe the rulebook ever gives a formal term for them.)
So the method here is really simple:
A roll of 70 or less is a severe failure

A roll of 40 or less is a horrific failure.
The system also has a handful of effects which are determined "per 10 margin of failure". (For example, shock damage can knock you unconscious for 1 round per 10 MoF.) To calculate that, simply subtract the tens digit of your result from 9. (So if you roll 77, you would be shocked for 9 – 7 = 2 rounds.)
If you're looking for a conceptual framework, think of failure as emanating from 99 and growing in magnitude. Note, too, that higher is always better with this system: A higher success is a better success; a higher failure is a better failure. What my mind initially tries to interpret as a discontinuity actually makes sense if you just imagine success and failure emanating from opposite ends of the spectrum while the outcome is a linear comparison to your skill rating.