I mentioned a couple days ago that I'd just returned from Gencon and a few people asked me to talk a little bit about my experiences there. As I mentioned, I ran 5 games and played in 4:
Numenera: Into the Violet Vale (ran 3 sessions)
The Strange: Eschatology Code (ran 2 sessions)
Cthulhu Masters Tournament (played in 2 rounds)
Eclipse Phase: Detente
Eclipse Phase: Overrun
This was more intense but considerably less varied than last year, when I played in 6 games (including Call of Cthulhu, Lady Blackbird, Eclipse Phase, Shab–al-Hiri Roach, and Numenera).
The sessions of Numenera and The Strange I ran were actually the very first con games I've ever run. And I made a very conscious decision to jump in with both feet by signing up to run two sessions of each. What I wasn't anticipating was that this would, in turn, lead to a very intense pre-con experience, too: I didn't receive the scenarios I was running from Monte Cook Games until August 2nd, which meant I had less than two weeks to read them, prep them, and playtest them. (I ended up running two playtest sessions of The Strange: Eschatology Code and one session of Numenera: Into the Violet Vale with various assortments of my local players.) The core rulebook for The Strange was also just released and so I found myself having to run the game without actually having read the core rulebook yet. (I actually still haven't finished the core rulebook.)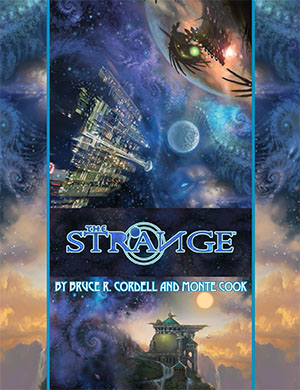 THURSDAY MORNING SURPRISE: I was supposed to launch my Gencon experience by playing in an 8 AM game of Numenera run by an independent GM unassociated with the official MCG events. I haven't had much of a chance to actually play the game since last Gencon and I was looking forward to it. Unfortunately, the GM was a no-show. That meant that I was sitting at a table in the Marriott with four players who were all desperate to try out this awesome game. Meanwhile, right next door at the JW Marriott, I had all my supplies for running Into the Violet Vale.
Well… you can guess what happened next. We headed over to the JW Marriott's bar, sat in comfy chairs, and I inaugurated my experience of GMing at con twelve hours earlier than I was anticipating. The session, albeit somewhat abbreviated on time, proceeded fabulously. (This was followed by a desperate scramble to print out new character sheets for the scenario so that I would have enough for my official games. Fortunately, the JW Marriott has a FedEx store on the second floor.)
THE STRANGE: Since Gencon last year, Numenera has rapidly dominated my roleplaying, displacing D&D 3.5 as my most played game. I am just as excited about The Strange. I talked more about it over here, but the short version is this: If you've dismissed this as just a simple "dimension hopping" game, take the time to give it a second look. It's doing some really interesting and unqiue stuff within the genre.
I will also say that Eschatology Code, the scenario Bruce Cordell wrote for Gencon, is simply fantastic. It has certain limitations as a scenario for home play (although it would be a strong way to kick off a campaign), but it's one of the tightest and most effective convention scenarios I've had the pleasure to see. No spoilers, but if you get a chance to play it, I recommend seizing the opportunity.
ECLIPSE PHASE: I'm a huge fan of Eclipse Phase and my experiences with their games this year were great. I had some confusion with my schedule (Google Calendars shifted the times of all my events when I switched time zones heading into Indianapolis) and I ended up being an hour late for the first scenario. After apologizing profusely for being an unintentional jackass, however, I settled into a really nifty scenario involving multiple factions fighting over control of one of the Pandora Gates. Midway through the scenario I had a Crowning Moment of Awesome(TM) and actually got a round of applause at the end of the session for it. Woot!
(During the convention I also got two rounds of applause while GMing, one after pulling a back-to-back doubleheader of Numenera and The Strange that lasted until midnight on Friday.
CTHULHU MASTERS TOURNAMENT: This was my second year participating in the Cthulhu Masters Tournament and this year (after fleeing a Hound of Tindalos during the Fall of Saigon in a very memorable scenario where they actually built a helicopter for use to roleplay in) I advanced to the second round. This tournament is really fabulous and the caliber of players it attracts is simply marvelous.
THE LOOT: The two Gencon acquisitions I'm most excited about are Run, Fight, or Die and Level 7: Invasion. (The Strange would also be on the list, but I kickstarted it and received the rulebook a couple weeks earlier.)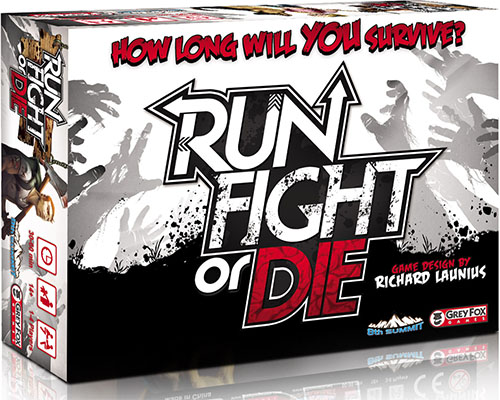 Run, Fight, or Die was designed by Richard Launius (of Arkham Horror fame). I first glanced at it many moons ago when it was being kickstarted, but the pitch for the game was basically "King of Tokyo with zombies" and my response to that was, "Meh." (As it is with pretty much all "it's X plus zombies!" pitches.) But I slid into a demo game on the con floor and really, really enjoyed the game: The central keep-and-roll mechanic is similar to King of Tokyo, but that's where the similarity ends: Run, Fight, or Die features immediate punishment for pushing your luck, which adds an extra dynamic of risk to the standard procedure or looking for the most favorable combination. The combinations themselves are actually progressive in interestingly discontinuous ways, which means that you can actually end up shooting past your desired result. Finally, the central conflict of the game — in which hordes of zombies move closer and closer towards you — creates a rich tactical environment in which you have to balance and choose between short-term and long-term consequences.
The whole package is just fabulous. I've played it a dozen times since getting home from Gencon and I'm pretty firmly convinced that it's going to be a huge hit at my Game Night parties.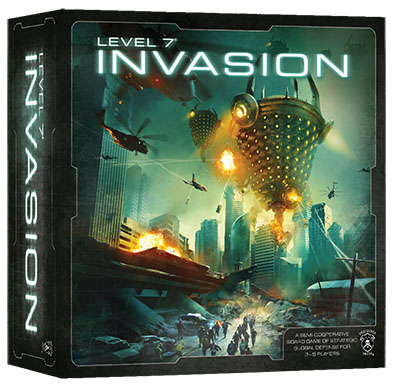 I haven't actually had a chance to play Level 7: Invasion yet, so I really can't pass any kind of judgment or provide any kind of insight about it. But I'm a huge fan of Level 7: Escape and Level 7: Omega Protocol. The progressive storytelling in the series evolving through radically different types of games (Level 7: Escape is a co-op 'crawler, Level 7: Omega Protocol is a players-vs-masters tactical combat game, and Level 7: Invasion is a geopolitical wargame) is really fascinating to me.