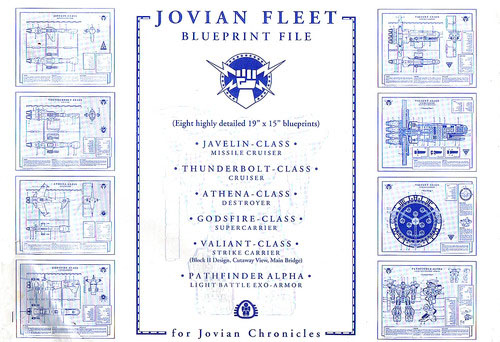 Tagline: A beautiful product, suitable for framing or reference.
I've read a couple of reviews of these blueprint files previously, and they all have contained a similar comment: "This isn't what I expected at all!"
Which is odd because, folks, there's nothing to be surprised at here. The Jovian Fleet Blueprint File comes packaged in an 8.5" x 11" white envelope. On the front of the envelope is the title and a sort of "table of contents" – which tells you that there are eight 19" x 15" blueprints folded inside the envelope, and that these blueprints are of: A Javelin-class missile cruiser; a Thunderbolt-class cruiser; an Athena-class destroyer; a Godsfire-class supercarrier; a Pathfinder Alpha (exo-armor); and a Valiant-class Strike Carrier (Block II Design, Cutaway View, and the Main Bridge).
On either side of this table contents are eight miniature versions of the blueprints. You were wondering what these blueprints are? Look on the cover. It doesn't get much easier than that.
Each blueprint comes with some background text on the design, plus various specifications and explanatory passages. They are elegantly suitable for either framing or for reference to these crafts.
There are some weak points to these blueprints: First, the verbiage for the Pathfinder Alpha is copied straight out of the core rulebook. Uh, guys at the Pod? If I bought this, it's a good bet I already own the core book.
Second, there were a couple of editorial errors. A product of this length just shouldn't have any errors in it.
Finally, the ships are not too useful.
The particular strength of all this are the cut-aways for the Valiant-class strike carrier. It's a useful reference for anyone using the mini-campaign in the core rulebook, and I also enjoyed the three-dimensional holographic bridge design shown and described on one of the blueprints.
In short: Take a look at the cover in the store. If it looks like the type of product you're going to get some use out of, pick it up. If not, don't. You're not going to be missing anything.
Style: 5
Substance: 4
Author: n/a
Company/Publisher: Dream Pod 9
Cost: $9.95
Page Count: n/a
ISBN: n/a
Originally Posted: 1999/08/24
For an explanation of where these reviews came from and why you can no longer find them at RPGNet, click here.