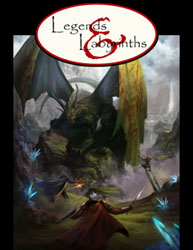 Since my last update, I've received about a dozen additional refund e-mails and all of those refunds have now been processed. The only people who should be currently waiting for a refund are those who requested a refund by check. (I'm going to be processing all of those refunds in one big batch.)
This update is primarily just a third and final call: If you are a backer who has not received a refund, it's because you either haven't sent me an e-mail or I haven't received it. If it's the former, please contact me ASAP at legendsandlabyrinths@gmail.com. If it's the latter, please leave a comment here and we'll figure it out (since there seems to be something wrong with our e-mail connection).
Many of you may be thinking to yourself: "I don't freakin' care. I wasn't a backer for Legends & Labyrinths." Good news! Even if you weren't a backer, you can download a copy of the Black Book Beta which contains a totally playable version of the rules along with a lot of cool new tools for simplifying your 3.5 or PF game.