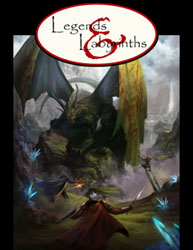 As I mentioned previously, I wasn't planning on initiating this sequence of posts until I had the last of the final art in my hands. But my post about running a forum-based adventure over on theRPGSite a couple days ago has inexplicably resulted in two people sending me scathing e-mails demanding how I can possibly justify running online adventures or developing prep notes for Eclipse Phase scenarios when Legends & Labyrinths still hasn't been published.
Well, it's largely because there's nothing for me to do. As I've expressed previously, we're waiting for art. And the reason we're waiting for art is because paying for that art was the entire point of the funding initiative. It's frustrating that we've had artists flake, but we've got some really great artists working on it now and it's just a matter of time before we'll be able to realize Legends & Labyrinths as it was intended to be.
So if you're wondering why I have time to write updates here on the Alexandrian or run games for my friends, it's because the choice isn't between "working on L&L" and "doing this other thing". It's between "doing this other thing" and "doing nothing". Because you really don't want to see what the art for L&L would look like if I was trying to fill the gap in my spare time: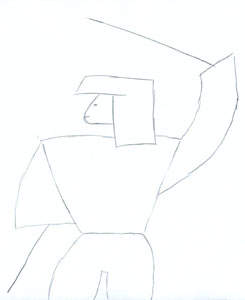 (aww yeah… pay me $40 for a full-glossy hardcover of that, baby)
Notably, none of the excoriating e-mails I have received have been from the people who have actually given me money for Legends & Labyrinth. I appreciate the patience all of them have shown in waiting for the book to come to fruition. And I hope that the art they've helped me pay for — and the beautiful book that art will make possible — will be worth the wait for them.
Meanwhile, here's a concept sketch (not a finished piece!) to give you an idea of why we're waiting for the professionals to do their thing: