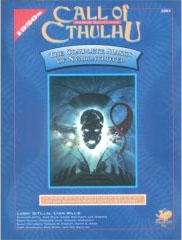 I somehow managed to get through my entire essay on the Three Clue Rule without mentioning the adventure that first made me codify it: The Masks of Nyarlathotep.
Originally published in 1984, The Masks of Nyarlathotep is quite possibly the best-structured RPG campaign ever published. It chronicles the PCs' attempts to crush the many cults of Nyarlathotep, beginning in 1920s New York and then carrying them through London, Cairo, Kenya, Australia, and Shanghai.
But not necessarily in that order. Or any order at all, for that matter.
What makes the campaign memorable is not just the epic globetrotting, but the fact that the PCs were left entirely in control of their own destiny: Every location had a plethora of clues which could lead the PCs to any of the other locations, giving them free reign to pursue their investigations in any way that they chose.
In 1984, this structure was completely revolutionary. It still remains virtually unduplicated in its scope and flexibility.
I've never gotten a chance to actually run The Masks of Nyarlathotep. (Some day!) But the nascent promise of its design made a deep impression on me and continues to fundamentally shape the way I plan my campaigns.